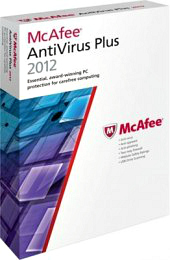 One of the world's most recognizable computer security software, McAfee AntiVirus Plus 2012 provides proactive protection against viruses, spyware, rootkits, Trojans, and rootkits. The software also can detect and avoids attacks from hackers, phishing scams, dialers, adware, and malicious scripts. McAfee AntiVirus Plus is one of the only antivirus software that include a two-way firewall. In addition, McAfee AntiVirus Plus also includes McAfee QuickClean and Digital Data Shredder features that will help to clean the junk and unwanted files.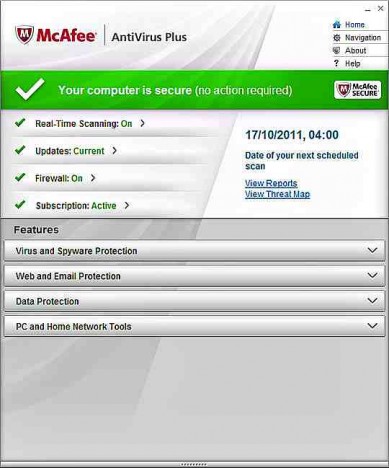 Features of McAfee AntiVirus Plus 2012:
Scans and blocks dangerous emails, risky web content, and online threats like viruses, Trojans, spyware, and rootkits.
Two-way Firewall block bad guys breaking in or sneaking out with your personal information.
Safe Searching- color icons will show how safe the website.
McAfee Active Protection feature- to quickly determine the risk of any possible safety hazard.
McAfee SiteAdvisor warns you before you visit about risky web sites which sites are safe and which may install malicious code, phish for your identity, or send you spam.
PC Tune-up – McAfee QuickClean™ software removes the clutter so your computer can keep up with your digital life.
USB and Removable Drive Scan scans and blocks portable payload of viruses, Trojans, and worms before it can wriggle into your PC and your network.
Exclusive Anti-bot Protection locks stealthy botnet software by denying its attempts to connect your PC to web addresses that belong to crooks.
Pre-install Scan help you salvage your system when your are already infected.
McAfee AntiVirus Plus 2012 normally cost $49.99 for purchase. As part of promotional offer for Facebook users, McAfee is giving away free McAfee AntiVirus Plus 2012 180 days subscription as 6-month trial. Just follow steps below to register for the free subscription and download the setup installer.
Visit the promo URL: http://us.mcafee.com/en-us/affiliates/facebook/landingpages/276multi.asp?eolexm=vste

Click on the "GET STARTED NOW" button. User will be redirected to McAfee registration page, create an account or login to McAfee (if already have an account).

After successfully login, on you account page, click on the "Get my Trial" button and click on the "Download" button to proceed with the online download.
McAfee AntiVirus supports Windows XP, Windows Vista, and Windows 7.