Managing passwords is a tedious job especially when you are dealing with many accounts or controlling numerous devices. You can have a single password for all your registered accounts or to control all your devices. However, this is quite a risky move from the security viewpoint. For security reasons, users normally create strong passwords and change them frequently. To reduce users' headache and provide users the peace of mind to manage their accounts and passwords effectively, users can try out a useful online password manager called PassPack.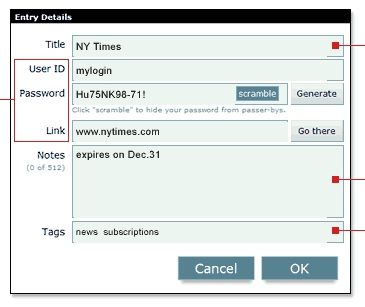 This free online password manager, PassPack allows registered users to keep their passwords for their frequently visited websites in PassPack and they can auto-login to these sites from PassPack once they have signed in to PassPack. Besides passwords, users also can keep their private information such as registration number, membership codes, important notes, frequent flyer miles, etc in PassPack.
Users might raise their concern over the internal security system in the PassPack service. Users might worry whether the PassPack staff might easily obtain their passwords and view their private data or information. PassPack has addressed the issue by reassuring users that all users' data will be encrypted before these data are sent to PassPack servers. Hence, nobody, not even PassPack staff can read their passwords.
When it was launched last year, PassPack received very positive responses from its users. The latest PassPack Beta 6 has just been released lately. This latest version has improved its security features. The PassPack Beta 6 enables users to choose from 3 different levels of encryption. Read out more about Beta 6.
PassPack is available free for home users. Users can keep their account as long as they like. PassPack will also come out with a paid package in the future. Those who wish to upgrade their version can purchase the additional service.