Consider that there are over 30 types of virus and malicious threat such as Resident Viruses (Randex, CMJ, Meve, and MrKlunky), Multipartite Viruses, Macro Virus (Relax, Melissa.A, Bablas, O97M/Y2K), Worms (PSWBugbear.B, Lovgate.F, Trile.C, Sobig.D, Mapson), and more that could cause computer face threats. For extra security protect the computer from threat is undoubtedly is the best advice.
Malware Hunter Pro from Glarysoft is a powerful and all-in-one security software for PC that designed to provides comprehensive protection against all types of threats, eliminate potentially dangerous files to keep PC free from viruses. Malware Hunter Pro features to boosts PC speed and fixes frustrating errors, crashes, and freezes. In addition, the program also comes with one-click functionality and over 20 premium support tools to enhance PC performance.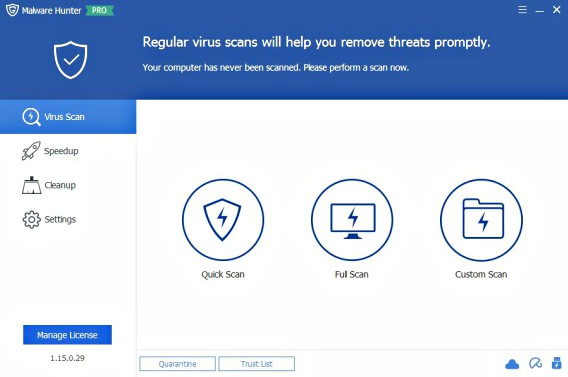 Key Features of Malware Hunter Pro:
Hyper scan makes faster scanning speed
Detect and remove stubborn malware, against potential danger
Protection against all types of threats to secures data
Protects privacy and ensures PC remains virus-free
Fast hyper scans, detect and remove stubborn malware, against potential danger
Automatic updates provides real-time protection so that PC is always up to date and secure
Malware Hunter Pro normally cost $39.95 purchase for 1-year subscription. As part of promotional offer, Galarysoft is giving away free Malware Hunter Pro to everyone, interested user just follow the steps below:
Visit the giveaway page HERE
Enter email address, complete ReCaptcha (check the box "I'm not a robot"), and then click "Get My Key Now" button.
Confirmation email from Glarysoft will receive containing the link.
Click the link to create an account, then login to the account (myaccount.glarysoft.com).
Once done, the license key for Malware Hunter Pro will appear.
Download the Malware Hunter Pro from here (official download link).
After complete download, install and fill in the license key to enjoy the free 1-year Malware Hunter Pro.
Malware Hunter Pro compatible with Microsoft Windows 2000, 2003, Windows XP, Vista, Windows 7, Windows 8, and Windows 10.
You can share or follow us on Twitter, add us to your circle on Google+ or like our Facebook page to keep yourself updated on all the latest info from Microsoft, Google, Apple and the Web.