Besides released a new version of iOS 8.3 update, Apple also released an update for Mac OS X Yosemite – 10.10.3. OS X Yosemite 10.10.3 bring lots of new features, bug fixes, and performance enhancements. OS X 10.10.3 beta was first seeded to developers in February, and provided free update through the Mac App Store to public beta testers since March. Now, the final version of OS X 10.10.3 can be downloaded through the Software Update mechanism in the Mac App Store.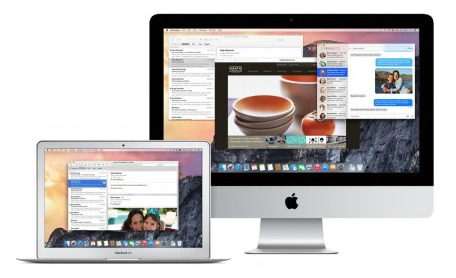 Most attractive features in OS X Yosemite 10.10.3 is it new Photos app that replace iPhoto. Photos app is designed to bring photo editing experience and sync photos across all iOS devices much better. With the new Photos app, iOS users are able to browse photo by location and time within Collections, Years, and Moments, or navigate through the photo library in different tabs – Projects, Shared, Albums, and Photos. In addition, iOS users also can store images in the iCloud Photo Library at full resolution and can access the photos on the iCloud.com website.
Along with the new Photos app features, OS X 10.10.3 also brings new emoji complete with skin tones. Here the full changelog for Mac OS X Yosemite 10.10.3:
For Photos:
Browse your photos by time and location in Moments, Collections, and Years views
Navigate your library using convenient Photos, Shared, Albums, and Projects tabs
Store all of your photos and videos in iCloud Photo Library in their original format and in full resolution
Access your photos and videos stored in iCloud Photo Library from your Mac, iPhone, iPad, or iCloud.com with your web browser
Perfect your photos with powerful and easy-to-use editing tools that optimize with a single click or slider, or allow precise adjustments with detailed controls
Create professional-quality photo books with simplified bookmaking tools, new Apple-designed themes, and new square book formats
Purchase prints in new square and panoramic sizes
Improvements:
Adds over 300 new Emoji characters
Adds Spotlight suggestions to Look Up
Prevents Safari from saving website favicon URLs used in Private Browsing
Improves stability and security in Safari
Improves Wi-Fi performance and connectivity in various usage scenarios
Improves compatibility with captive Wi-Fi network environments
Fixes an issue that might cause Bluetooth devices to disconnect
Improves screen sharing reliability
Enterprise content
For enterprise customers, this update includes the following:
Addresses an issue that could cause Macs bound to an Active Directory server to become unresponsive at startup
Provides the ability to set a umask that's respected by GUI apps
Fixes an issue installing a configuration profile for 802.1x with EAP-TLS
Resolves an issue where folders from a DFS share point might "disappear" when viewed from the Finder on some Macs
As mentioned early, Mac OS X Yosemite 10.10.3 is completely free of charge, and available through Mac App Store.
Before update, you should always back up your Mac. Use the Updates pane of the Mac App Store to check for the latest Apple software updates.
You also can download the manual installer from Apple Support Downloads. This is a useful option when you need to update multiple computers but only want to download the update once.
Note: unexpected results will happened if you have third-party system software modifications installed, or if you've modified the operating system through other means.
You can share or follow us on Twitter, add us to your circle on Google+ or like our Facebook page to keep yourself updated on all the latest info from Microsoft, Google, Apple and the Web.