If you're looking for a new web camera for your desktop computer, the newly launched Genius' Look 313 Media might suit your taste. It is the world's first multifunctional web camera as claimed by Genius. This web camera integrates two rotational speakers, a microphone slot, a USB 2.0 hub and headset slot – a 5-in-one functions gadget which provides a mini-digital entertainment system for consumers.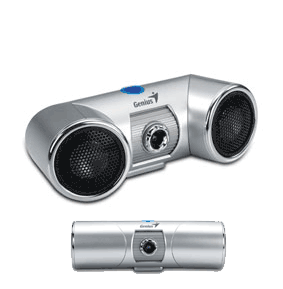 According to Bijoy Thomas, marketing manager, GCT, Ltd., Genius is committed in combining the latest technology with elegance and ease of use. We want to provide products for our valued customer based on value added features at affordable prices and this product exactly matches these requirements. He also believes Look313 will definitely meet all expectations; end users and channel community can look forward to having similar products in the near future.
Because it is portable, travelers can carry it easily without having to allocate extra space in their travel case. The Look 313 comes with 330k-pixel web cam which provides a clearer picture quality for better video chat experience. The web camera also allows still image capture in different resolutions (maximum up to 1280 x 960) and movie clip recording in AVI format (maximum at 640 x 480). Its 'Easy Surveillance' function permits users to save files and it begins recording to hard disk automatically when it detects any movement. The headset and microphone slot allow users to have some fun. The rotational speakers are designed at 2 watts RMS with a 36mm Neodymium magnet micro driver and a built in digital amplifier, while the hub interface is USB 2.0 (backward compatible to USB1.1/1.0) with 2 downstream ports.
This leading product will definitely provide you with a very different digital lifestyle. The Genius Look 313 Media is available at GenuisShop for about $60.