Looking for a cool device to transform your low-fidelity mobile phone audio into high-fidelity, stereophonic sound? The leading company producing peripheral devices for PCs, Logitech has concerned of your needs with its new Logitech Pure-Fi Mobile speaker system, aiming to enhance your music listening experience.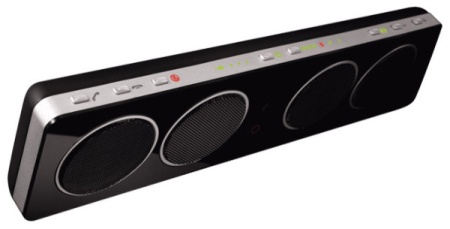 The users can stream stereo audio through the compact Logitech Pure-Fi Mobile speakers up to 10 meters (about 33 feet) away from your Bluetooth A2DP (Advanced Audio Distribution profile) enabled cellphone.
"Millions of people now use a mobile phone to listen to music. If you're one of those people, now you can toss your ear buds aside and pump up the volume," said Mark Schneider, vice president and general manager of Logitech's audio business unit. "So when you're at a party, at the park, or just hanging out at home, your mobile-phone music will always sound great when you use the Pure-Fi Mobile speaker system."
The latest Pure-Fi Mobile wireless speaker system also can connect to PC, iPod and other MP3 players via its 3.5mm audio jack for non-Bluetooth sources, along with the rechargeable batteries that able to support approximately 12 hours of playing time as well as a battery-life indicator.
In addition, this portable system performs as a wireless speakerphone and you won't need to even pick up the phone, thanks to the call-answer and call-end buttons on the top of the speakers, incorporating 2 built-in mics – one to pick up vocal nuances and the other to monitor and block unwanted background noise.
The new Logitech Pure-Fi Mobile speakers that come with 2-inch high-excursion drivers and dual 2-inch pressure drivers are expected to be available in coming June for about $150.