LiteManager is a free remote access software that features to allow users control computer desktop over the Internet or in local network with real-time mode. LiteManager free version offers 30 licenses for remote access to 30 computers, but doesn't include several modes and features compare to LiteManager Pro version.
However, there is good news for all readers. Now you have chance to grab free LiteManager Pro version at no cost.
Through it advanced encrypted and compressed data technology, LiteManager make sure users secure while remote access to the file, processes, and system of the remote computer. Furthermore, LiteManager also attach with powerful tools for create network map, collect technical data, update using remote installation services, configure private ID router (NOIP), and more.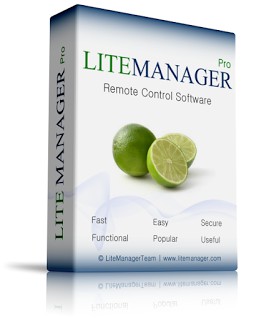 Features of LiteManager Pro:
Control and view the desktop of a remote computer
Fully remote desktop control
File manager for working with files and folders
Remote task manager
Power management
Text chat, audio, and video chat
Telnet control of the computer via command line
Device manager and inventory
Screen recorder
Network map
Connect server with a dynamic IP address and cascade connection functionality that allows working in complex networks
Remote installation and update
Server search
Registry editor
Connect by ID and No-IP application
Can operate in portable mode – USB flash drive
Offers high level of security with data encrypted and transferred over a secure channel
More than 10 individual modes of operation
To grab free LiteManager Pro (usually cost $10), just follow the steps below:
Download LiteManager Pro: litemanager_4.8_(exe).zip
Once finish download and install, activate the software with license serial key below:
7A52D541A14E3FCf8ccC0fbCE218D0f83U2JhhgAQ6+aCs6ZSFsF94ES2NMCXACe
To enter license key, open License manager from the go to main menu (LiteManager) → Help → License manager.

Enter license key and add it in a list.
Close License manager and restart the program to activate the license key.
LiteManager Pro Free Download With Unlimited Genuine Lifetime License and Upgrades
You can share or follow us on Twitter, add us to your circle on Google+ or like our Facebook page to keep yourself updated on all the latest info from Microsoft, Google, Apple and the Web.