If LG's GD910 is not your cup of tea, perhaps Hyundai Mobile's latest MB-910 is something you can have a look at. After LG showed off its GD910 3G watch phone early this year, Hyundai Mobile now brings to watch phone lovers another alternative by introducing its MB-910 watch phone. At first glance, both watch phones spot an elegant look but comparatively, LG's watch phone appears to be a high-end and modern style of timepiece while Hyundai's MB-910 has a more conventional design.

Both LG GD910 and Hyundai Mobile MB-910 feature a TFT touchcreen. The LG's GD910 is 1.43-inches (3.63cm) across TFT touchcreen with 256k color and uses LG's Flash interface. The MB-910's TFT touchcreen only supports 65k color with approximately 22x30mm display. In terms of network compatibility, the LG's watch phone is much more advanced than Hyundai Mobile. The LG GD910 enables 3G HSDPA, high-speed data transmission up to 7.2 Mbps and video phone calls using the built-in camera. The MB-910 by Hyundai is just a tri-band GSM/GPRS (900/1800/1900MHz) watch phone.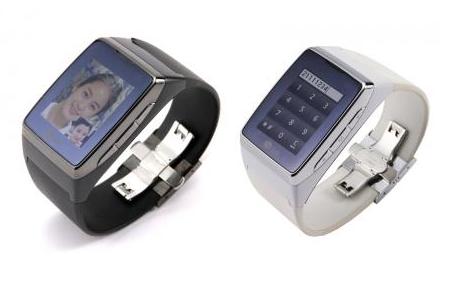 The LG GD910 comes with Text to Speech feature for handling text messages. Its voice recognition features can be used to look up contact details and make calls. It supports Bluetooth headsets, including stereo audio, and has a built-in speaker. The other features offered by LG GD910 include an MP3 player, organizer, camera, games, SMS and MMS. It is also water-resistant. Its weight is about 84g with a measurement of 61x39x13.9mm. It uses standard Li-Ion battery with talk time up to 2 hours.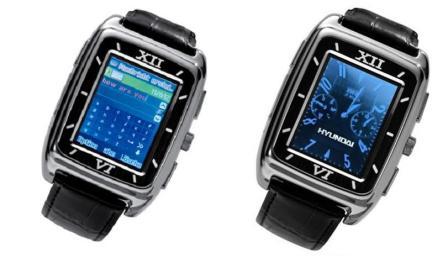 Hyundai MB-910 supports Bluetooth headsets; it can also be used as a speakerphone. The watch phone comes with 64 polyphonic ring tones. Its features include email client, video playback, music player, USB capability, SMS and MMS. The MB-910 comes in Silver, measures 58x44x16mm and weighs 58g. Its 400 mAh battery can provide up to 3 hours of talk time, as well as about 70 hours of standby time.
Even though LG-GD910 has been introduced much earlier, this unique model will only be available at the end of 2009 whereas Hyundai Mobile MB-910 is expected to arrive in mid 2009. Hyudai Mobile MB-910 is priced at £200 but there is no pricing info on LG GD910.