In an effort to economize, we need to plan and organize our financial plan to cover our daily life in an efficient way. Someone will feel a bit lost and no idea to tally up the bills and accounts. A company called Level was launched Level Money for iOS to help solve this problem. Level Money is the effortless way to track your daily cash flow and take control of your money. It is not like others finance apps are complex affairs with tons of graphs, charts and options, however, it will keeping track the activities in a simple and straightforward way.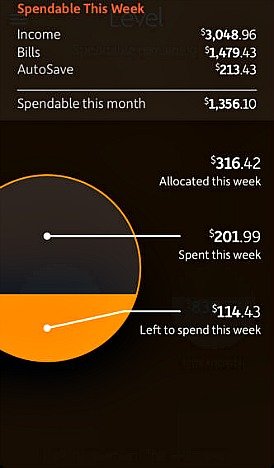 Level Money divides your finances into 4 main categories: Income, Bills, Saves, and Spendable. So, after linking bank accounts, credit cards and figures out how much you need to spend each month, it will automatically determines how much money you can spend today, this week and also the rest of the month. When you open the app, these numbers are presented in a clear and elegant way which you can correct and delete. The idea is to replace compartmentalized budgeting with a new concept or system of personal spends ability. Unfortunately, you cannot add purchases made by cash on this app. Level Money can only detect bank account and credit card transactions.
Level Money is a valuable app and will become useful with future upgrades if you feel comfort with providing some sensitive login credentials. However, Level company commit that do not store users credentials and information remains safe and secure while allow the app to detect trends in cash flow and understand spending needs.
Level Money is currently available for iOS only, interest users who grab to own this app can now download it from the App Store today.
Level Money for iOS: https://itunes.apple.com/us/app/level-money/id706366965?mt=8