Nowadays, the outward design of USB drives are multiple and innovative. LaCie will be introducing three new key shaped USB flash drives. Have one in your key chain; nobody will notice it until you plug it into your USB port. You will also not forget to bring it along wherever you go because it is always attached with your house keys and car key.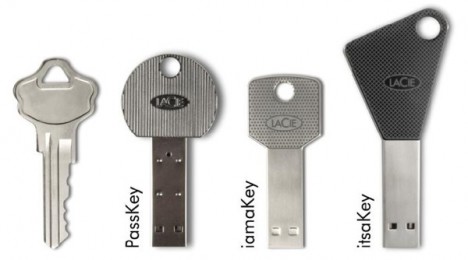 "Following the popularity and usefulness of flash memory today, LaCie merged the ubiquitous USB interface with a very mobile and convenient form factor, a key that you always carry with you", said Luc Pierart, business unit manager of peripherals and accessories.
The new LaCie three 'keys' have their own name – itsaKey, iamaKey and PassKey. The itasaKey and iamaKey are available with either 4GB or 8GB of built-in memory capacity. They are also water and scratch resistant. The PassKey has an ability to put in additional microSDHC card to further expand the memory. All the three 'keys' allow read and write speeds up to 10MB/s and 20MB/s respectively.
There is no detail on pricing yet from LaCie.