Last year, Kodak has released its first mini video camera named Zi6 which had gained good response from the public and also won a few awards. This year, Kodak has unveiled another pocket video camera – Kodak Zx1 tagged "Live the adventure. Relive it in HD."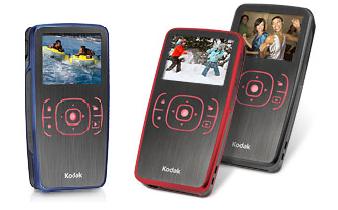 The Zx1 is designed for adventure. Its rubberized doors and stainless steal panel give strength protection to the body as well as svelte looks for this pocket video camera. It is resistant to rain, snow, sand and dirt but not waterproof nor safe to operate in extreme cold condition. It is tough but not super-tough. The Zx1 is certified to be at IP43 in protection rating.
In terms of video quality, Kodak Zx1 enables video to be captured at 720p HD resolution. You can choose to record the video at HD 60 fps, HD 30 fps or VGA quality. Another great advantage of the Zx1 is it is able to produce great video whether in bright or low light condition. However, there is no image stabilization feature on the Zx1. This is a bit of a disappointment for a video camera associated with "adventure".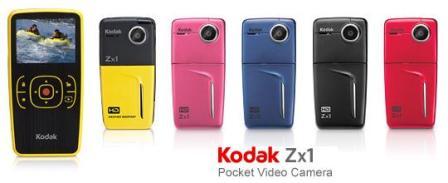 The recorded video can be viewed at its vibrant 2.0 inch LCD screen at normal view, slow motion playback, fast forward and rewind or frame by frame. With the included HDMI cable, your can experience your videos on an HDTV. You also can share your video with friends by uploading it on YouTube using the built-in software and USB cable quickly and easily. The built-in software will be automatically installed into your PC once it is connected with the Zx1. The software has editing features that let you edit, trim, splice and adjust your videos. This software only supported Windows but not Mac.
Other key specifications of Kodak Zx1:
1 / 4.5–type 1.6 MP CMOS sensor
2X digital zoom
128 MB internal memory and expandable with SD/SDHC card slot that can hold up to 32 GB
Support KODAK Li-Ion Rechargeable Digital Camera Battery KLIC-8000; KODAK Lithium Digital Camera Battery CRV3; (2) Ni-MH Rechargeable Batteries; (2) Alkaline Batteries
Color available: black, blue, pink, red and yellow
Dimension: 50.1 × 107 × 20 mm
Weight: 90g without batteries
Kodak Zx1 is available at about $150.00.