Tired of waiting PC take time to boot up completely? Thanks to the world leading company in memory products – Kingston, has officially announced KC400 solid-state drive (SSD) to add into its SSDNow family. The latest KC400 SSD is designed to improve reliability, minimal thermal output, speed boost, and low power consumption which is aimed for both consumers and business users.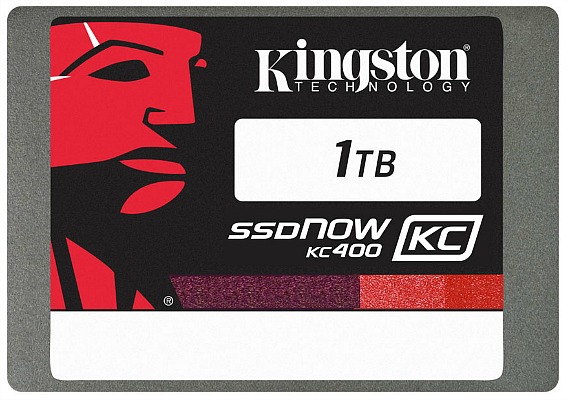 Although Kingston KC400 2.5-inch SSD is not designed for heavy use-cases such as server workloads, but it is perform up to 15 times faster than a conventional hard drive to deliver consistent performance for both compressible and incompressible data and improve responsiveness in performance-hungry applications.
Kingston KC400 features end-to-end data path protection and SmartECC to protect against data corruption, and SmartRefresh technology to protect against read errors. In addition, the drive also built-in firmware-controlled power loss management that able to recover from an unexpected power shutdown. While features of advances in controller technology and NAND provides KC400 SSD excellent data reliability.
The KC400 SSD is available in four different storage capacities – 128GB, 256GB, 512GB, and 1TB options. The 256GB model is the fastest of the four, featuring a maximum read speed of 550MB/S, and maximum write speed of 540MB/S. It also provides warrantied for 5 years with free technical support.
Features & Specifications of Kingston KC400 SSD:
15 times faster than a hard drive
Business-class reliability with advanced data protection
Legendary pre- and post-sales support
Available in a range of full capacities
Form factor: 2.5″
Interface: SATA Rev. 3.0 (6Gb/s) – with backwards compatibility to SATA Rev. 2.0 (3Gb/s)
Capacities: 128GB, 256GB, 512GB and 1TB
Controller: Phison PS3110-S10
Power Consumption: 0.255 W Idle / 0.335 W Avg. / 1.22 W (MAX) Read / 3.74 W (MAX) Write
Storage temperature: -40°C ~ 85°C
Operating temperature: 0°C ~ 70°C
Dimensions: 69.9mm x 100.1mm x 7.0mm
Weight: 60g
Vibration operating: 2.17G Peak (7–800Hz)
Vibration non-operating: 20G Peak (10–2000Hz)
MTBF: 1 million hours
Warranty/support: Limited 5-year warranty with free technical support
Sequential Read/Write: SATA Rev. 3.0
128GB – up to: 550/450MB/s
256GB – up to: 550/540MB/s
512GB – up to: 550/530MB/s
1TB – up to: 550/530MB/s
Maximum 4k Read/Write:
128GB – up to 99,000/87,000 IOPS
256GB – up to 99,000/88,000 IOPS
512GB – up to 99,000/86,000 IOPS
1TB – up to 99,000/89,000 IOPS
Random 4k Read/Write:
128GB – up to 88,000/87,000 IOPS
256GB – up to 88,000/89,000 IOPS
512GB – up to 86,000/88,000 IOPS
1TB – up to 86,000/89,000 IOPS
PCMARK Vantage HDD Suite Score: 84,000
Enterprise S.M.A.R.T. Tools: reliability tracking, usage statistics, life remaining, wear leveling, temperature
Total Bytes Written (TBW):
128GB − 150TB and 0.65 DWPD
256GB − 300TB or 0.65 DWPD
512GB − 800TB or 0.87 DWPD
1TB − 1600TB or 0.89 DWPD