Keylogger is probably one of the biggest threat for computer users frequently logon to Web or on always-on Internet connection. Key logger runs silently and transparently in the background, invisible and unnoticeable to most PC users, and can even foil detection by anti-virus software, records and transmits keys strokes users type on keyboard to the hackers or criminals for malicious and illegal purposes.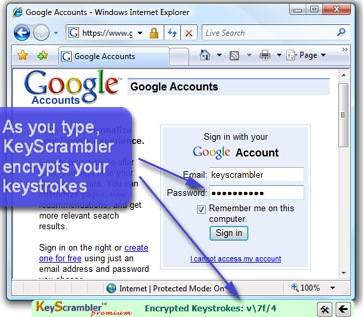 Most keyloggers target sensitive private personal information or data such as user name and password credentials especially those on bank's or financial institution's internet banking facility and access to email such as Gmail, Yahoo! and Hotmail, or credit card numbers, which can allow hackers to achieve gain financially. But sometimes, keys logger also been used to hack into a computer or an user account, such as on MySpace, Facebook, Friendster and etc. More scarily, keylogger can be installed on victim's computer via many unsuspected means – though email, Trojan-infested website, or simply by opening up photos or images.
So some computer users depend on anti-keylogger such as KeyScrambler to protect against the threat of important data been eavesdropped by keylogger. As its name implied, KeyScrambler encrypts keystrokes that are been typed so that keyslogger, if any exists, won't be able to capture any real keystrokes, but only some incomprehensible and indecipherable keys.
Features KeyScrambler 2.0
Defeats keyloggers by encrypting everything you type at the keyboard driver level and decrypting it at the destination application. Keyloggers are left with entirely indecipherable keys to record.
Protects against keyloggers even on security compromised computers.
Requires no effort on your part after installation.
Compatible with other security programs and authentication methods such as tokens and smart cards.
Protects all parts of the browser with add-on by encrypting everything you type into a web page on all websites, even on Java, Flash, PDF forms such as Runescape and Internet banking login page, and many other applications beyond the browser.
Video below shows Key Scrambler in action to protect keys typing from keylogger:
KeyScrambler Personal 2.0 is the latest and new version which is freeware – free without any payment needed. KeyScramber Personal edition supports Internet Explorer (IE), Firefox and Flock. For users who require complete protection, KeyScrambler Professional protects 12 browsers including Opera, Safari, plus email clients, IM and VoIP chats. KeyScrambler Premium 2.0 protects 20 popular applications in 5 different categories such as Quicken, TurboTax, Roboform, OpenOffice. Both can purchased from QFX Software.
Download the free KeyScrambler Personal. KeyScrambler supports Windows 2000, 2003, XP, and Vista (32-bit and 64-bit).
Update: KeyScrambler 2.4.1.1