Most company are slowly updating existing laptop lineups and launching new models that offer support for the Microsoft new operating system – Windows 10. Whether it's towards hybrid devices such as new Surface Book or tablet, one such company that has been aggressively launching new portable Windows 10 desktop mini PC is InFocus. The Portland technology giant has launched portable desktop PC called the Kangaroo with purchase price of $99 that offer consumers a convenient way to carry desktop PC in their pocket.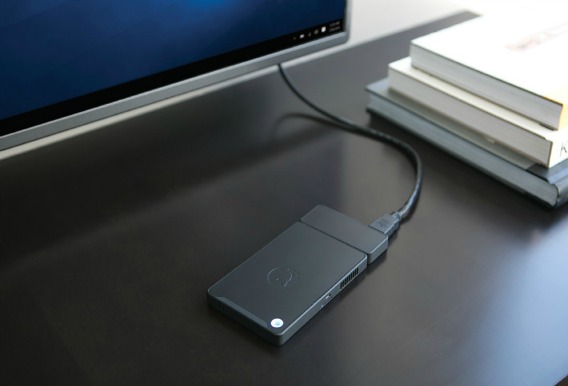 The highlight of the portable desktop PC Kangaroo, as its name suggests, its equipped with an Intel Cherrytrail (Z8500) SOC, 2GB of RAM, 32GB of expandable storage, and an on-board battery (rechargeable battery up to 4 hours on a single charge). The standalone Kangaroo Dock, which you can swap out for other future docks, includes an HDMI port and two USB ports.
Other features of the Kangaroo include a fingerprint reader that integrated Windows Hello security feature to provide easy login and maximum personal security without passwords, remote access via a hardware Action Switch allowing users to gain direct access to the Windows 10 desktop even when there is no WiFi, and more details on the new Kangaroo portable desktop PC website.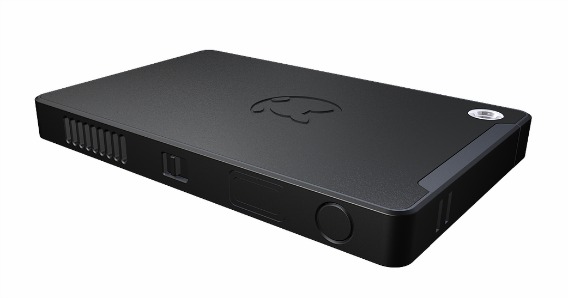 Features of Kangaroo portable desktop PC:
CPU – Intel Atom x5-Z8500 Processor (2M Cache, up to 2.24 GHz)
Graphics – Intel Processor Graphics Gen8
Video Memory – Sharing System Memory
Memory – 2GB LPDDR3
Hard Drive – 32GB eMMC
Connectivity – Wi-Fi 802.11 A/C (Dual Band) / Bluetooth 4.0
Expansion Slot – microSD
Security – Fingerprint reader
Battery Life – Battery power for up to 4 hours (casual use)
Ports – Computing module: microSD, Micro USB (charge only)
Dock Ports – USB 2.0 x 1, USB 3.0 x 1, HDMI x 1, DC-IN
Audio – Supported through HDMI
Cloud – OneDrive
Power Adapter – Input: 100V-220V ~ 1A, 50-60Hz / Output: 12V/3A
Accessories included Software – OSLinx (requires download & lightning to usb cable), AC Power Adapter, Kangaroo Dock
OS – Windows 10 – 64bit Home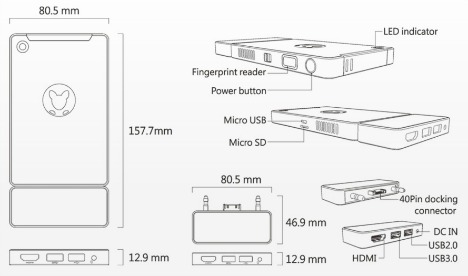 The company says that the Kangaroo as the world's smallest portable desktop PC with weighs just 200g and measures 124mm tall, 80.5mm wide, and 12.9mm thick. It also coupled with HDMI port, two USB ports, and DC power port with just 46.9mm tall.
"Consumers own many different devices including tablets, laptops and desktop PCs. Each device is used in different locations for different purposes. Kangaroo is the first product to allow you to use the same PC for all applications, in any environment," Lawrence Yen, director of Kangaroo product marketing, said in a statement. "Unlike stick PCs and other pocket PCs, Kangaroo works with all of your existing devices and can be docked at home or tossed in your bag to use anywhere, powering and providing Windows 10 access on the go."
The new Kangaroo PC, from InFocus is available for order starting today from both the Microsoft online store and Newegg.com.