Kerchoonz has unveiled a new product named K-box – a portable mini box which turns surfaces into sounds. The K-box is actually an iPhone-sized speaker. It uses "gel audio technology" to turn any solid flat surface that it is placed on into a speaker.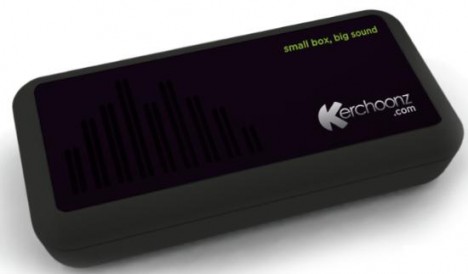 The small box can be plugged into any laptop, mp3 player, mobile phone or TV with a headphone jack. The K-box uses a patented gel to make whatever surface it touches vibrate and create a fantastic bass sound. Different surfaces will have different bass performance but averaging at around 40-20Khz as claimed by Kerchoonz.
According to Indiana Gregg, the founder of Kerchoonz, the K-box is ideal for traveling because the K-box is so compact, you can take it on holiday with you and have some great music playing in your hotel room or apartment. No more straining to hear dreadful sounds emanating from your mobile phone.
Battery life is about 20 hours and can be recharged via USB. The K-box is available now at Kerchoonz.com at about £40.