Most of the latest digital photo frames do not consist of just a simple photo frame but have other features with Wi-Fi enabled function. There is no exception to the two newly released photo frames from the Journe Air range by Toshiba called Journe Air 801 and Journe Air 1000, respectively. Both of the frames have Wi-Fi functions that allow users to directly link up their favorite RSS feeds and view photos direct from photo communities like Flickr and Picasa.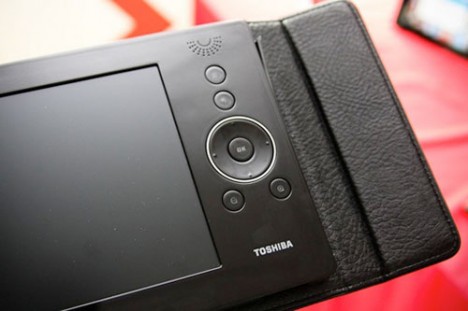 Journe Air 1000 is the flagship model of the range. It features a 10-inch 16:9 backlit LCD screen and 1GB of internal memory. The memory can be expanded by its memory card slot which supports SD, SDHC, MMC, Memory Stick, MSPro and xD cards. One of the key features of Journe Air 1000 is that it can receive and play internet radio with up to 50 preset channels. A remote control comes with the photo frame for easy control from a distance. The built-in battery allows 30 mins of back-up life. Other features on the Journe Air 1000 include auto rotating and resizing, audio playback, calendar, clock and alarm.
In comparison, Journe Air 801 is a smaller model. It only has a 8.4-inch 4:3 screen. The built-in memory is only 128MB but it has a memory card slot for expansion like the Air 1000. In addition, Journe Air 801 offers Sub-View and 3D Album functions. Similar to Air 1000, Air 801 also includes integrated speakers, calendar, clock and alarm.
Toshiba Journe Air 1000 and 801 are priced at £169.99 and £139.99, respectively.