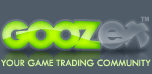 Goozex is an active game trading community on the Internet where members trades and swaps games using points. Members who offers their games for trading earn points when they mail or ship the games. Points can then be used to request for your favorite games which already beaten by other members, with additional $1 trading fee, which can be offset by trade credit if you have any.

New users sign up on Goozex.com will immediately get 100 points and 1 trade credit, which is enough to request one game for free on Goozex trading system. Joining is free, no credit card required, and maintaining Goozex account is free without month fees.
The promotion is plan by Goozex to get users to get a taste of Goozex and how it works by start trading. To start trading members will need Goozex points and trade credits (or $1). When you join Goozex and activate the account, 1 free trade credit and 100 points will be given right away, which new members can instantly use to request a free game.
Do note that what you get (the free game) is indeed is used game, as Goozex is simply a trading platform for gamers to trade game titles between each others. So make sure you do request full set of game (disk, manual plus box) instead just disk, or disc plus manual if you want complete thing. And the game that you pick, may or may not be fulfilled depending on whether there is any offer.
Depending on when you signed up, there may be further offer for free second game. Once you have completed the first transaction with positive feedback, additional 1 free trade credit and 100 points will be credited to member's account.
There are tons of games that available on Goozex, which for PC, XBox 360, PS3, Wii and other game consoles. Some of the games that are available for 100 points are Starcraft (Brood War), Warcraft II/III, The Sims (2), Medieval: Total War (Viking Invasion), Rome: Total War (Barbarian Invasion), Shogun: Total War (Warlord Editon), Rise of Nations: Thrones and Patriots, Unreal Tournament 2004, Need for Speed Most Wanted/Underground, RollerCoaster Tycoon 2/3, MVP Baseball, Godzilla and etc.