For 'jail-broken' iPhone owners, it's now possible to install a P2P file sharing client for Soulseek network to download free MP3 directly to iPhone. Soulseek file-sharing network to popular for music and song mainly from independent labels, artists, singers or bands with genres ranging from alternative, drum, bass, techno and etc.

iSlsk is an iPhone application that lets iPhone user to connect, download and share (feature coming soon) music and songs in various format including MP3 directly from within Apple iPod and iPhone through the Soulseek network. No computer required. Of course, Internet connection via Wi-Fi (wireless access point), 3G or GPRS is required.

Video clip showing iSlsk in action to download MP3s from Soulseek network.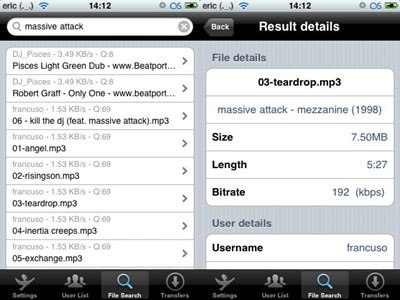 All downloads are saved in /var/root/Media/Downloads. iSlsk can be installed via Installer.app AppTap Installer by adding the BigBoss's Apps and Things repository: http://sleepers.net/iphonerepo