The market for e-reader has certainly gotten more exciting as new models of e-book readers are being introduced every now and then. Adding to this latest frenzy is the new iRiver Story by ReignCom, a South Korea consumer electronics manufacturer. iRiver Story comes in a compact yet sleek white casing (notice the similarity with Kindle?) of just 6mm thick, complete with a full QWERTY keyboard and other dedicated function keys.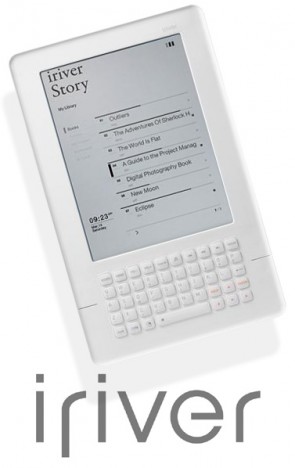 Unlike the other e-readers which only read or support ePub format, PDF, DOC and TXT, the iRiver Story can also view MS Powerpoint and Excel too! Though reading the PPT and XLS are very dependent on the original document resolution and layout, this does comes in handy especially for business users.
Featuring a 6 inch e-ink electronic paper display in 8-level gray scale of 600×800 pixel resolution, iRiver is run by a Samsung ARM9, 533MHz CPU under its 203 x 127 x 9.4mm (overall dimension) casing with 2GB internal memory (expandable to 32GB thru its SD-card slot). This Story claims to sustain up to 100 hours (9,000 page turn) with a fully charged battery and is surprisingly lighter (only 284gm) as compared to the Amazon Kindle 2 (318gm).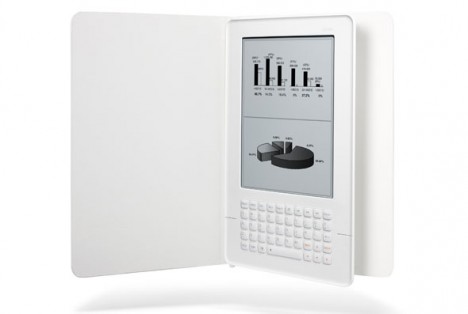 iRiver Story supports audio formats in MP3 and WMA. Other additional features include a voice recorder, text memos, comic book viewer and personal organizer. Some noticeable disadvantages, though, are slow page refresh speed, difficulty of reading in dimly lit environments due to the lack of backlight and lastly, its rather expensive selling price. Retailing at £230, the iRiver Story is definitely the most highly priced e-book reader there is in the market today. Not exactly your type of interesting "story", huh?
Specifications Summary
6-inch E-ink electronic paper display
600 x 800 pixel resolution
8-level gray scale
Dimension 203 x 127 x 9.4mm
Weight 284gm
Processor Samsung ARM9, 533MHz
Battery life up to 100 hours (9,000 page turn)
Supported formats PDF, e-Pub, DOC, TXT, PPT, XLS, MP3 and WMA