The worldwide leader in innovative storage and network security solutions for small and mid-sized businesses, consumers and others, Iomega has launched its new and stylish single-drive HDD "Super eGo", called as Iomega eGo 1TB Desktop Hard Drive, which able to store up to 4,000,000 photos, over 18,500 hours of music or 1,500 hours of video.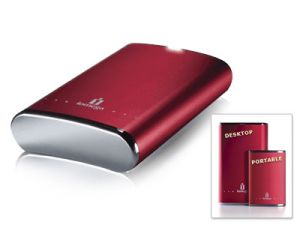 According to the company, this 1TB, 3.5-inch portable HDD includes a USB 2.0 connectivity and license for EMC Retrospect HD software (PC-only download) for automatic backups, scheduled backups or on-demand backups.
"By applying the award-winning style of the eGo design to a desktop hard drive, Iomega is giving users a one-terabyte Super eGo that's all about form and function, a beautiful and pleasing design for even the most data-intensive applications," said Peter Wharton, vice president marketing, Iomega Corporation. "Today's computer users want more style, capacity, and data security out of their computer hardware; the colorful, dependable and colossal one terabyte eGo Desktop Hard Drive delivers on all counts."
The new 1TB Iomega eGo Desktop Hard Drive that comes in ruby red, midnight blue and jet black colors is now available worldwide through online retailers, VARs, resellers and select retailers for about $270.