Iolo System Mechanic is a comprehensive tune-up utility software that designed to organise, fix, speed up PC inner system and protect PC by remove harmful and performance-impeding elements to keeps PC system running at peak performance.
Iolo System Mechanic provides feature such as delete duplicate files, increase system's start-up speed, eliminate crashes, restore lost data, and etc. With it one-click power tools, the program can automatically perform vital services by diagnose, report, optimize, repair, maintain, and resolve registry problems and performance issues.
In addition, Iolo System Mechanic also comes with cloud-based technology which allows user to access, download, edit, save, and online backup data anytime, anywhere.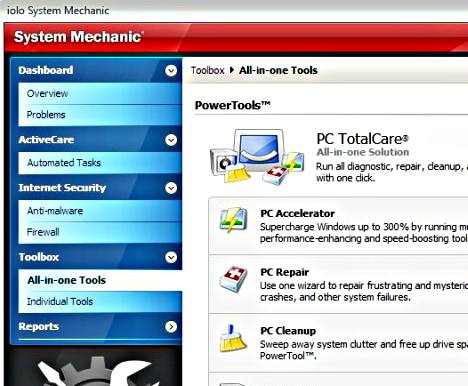 Features of Iolo System Mechanic:
Repairing errors, improving start-up and program speeds, tuning system settings, eliminating performance bottlenecks and cleaning out clutter
Improves speed, fixes annoying errors, stops crashes and freezes, eliminates clutter that bogs down drive space and memory and plugs up security holes that allow hackers to gain access to PC
Speeds up performance by re-aligning programs with their dependent files using Program Accelerator
Fixes more than 30,000 different problem types with precision and ensures PC continues to be protected against the latest performance threats and system flaws with enhanced, regularly updated Tune-Up Definitions
ActiveCare proactively optimizes PC using only idle system resources
DriveScrubber provides military-strength file deletion from any drive within Windows, no matter what format
Online Backup securely and automatically stores your most important files off-site, safe from digital disasters
AcceleWrite real-time technology allows faster writing and reading of files by optimizing critical file storage activity and increasing performance on both solid state drives and traditional hard disk drives
Designated Drivers manages critical software by scanning out-of-date device driver programs
SSD Accelerator keeps flash-powered solid state drives running at optimal speeds and prolongs the life of the drive
SmartScan and StrongScan dig deep to find and recover the file need even after it has been deleted
Duplicate File Inspector identifies unused duplicate files and programs and eliminates them from PC, while the junk file sweep and Internet cleanup clear up useless files and Web clutter
Security Optimizer identifies and repairs faulty system security settings, while System Guard blocks unauthorized startup programs and configuration changes for improved system safety
Fix hard drive errors with the drive medic, use the Internet Connection Repair to mend faulty connections and revive no starting systems with the emergency CD
Iolo System Mechanic usually cost $40 for single license purchase. As part of promotional offer, Iolo is giving away free 6-month genuine license for Iolo System Mechanic full version to everyone.
To grab the free 6-month copy of Iolo System Mechanic, just follow the steps below:
Simply head to promo page HERE.
Fill in all the necessary information, and then click "APPLY FOR ACTIVATION CODE" button.

Once completed, you will receive license key code which can use to activate the full version of Iolo System Mechanic.
Install Iolo System Mechanic, and key in the license key code received to enjoy full version.
Iolo System Mechanic is compatible with Windows 10, Windows 8.1, Windows 8, Windows 7, Vista, and Windows XP.
You can share or follow us on Twitter, add us to your circle on Google+ or like our Facebook page to keep yourself updated on all the latest info from Microsoft, Google, Apple and the Web.