If you have more than one computer, either laptop or desktop, you might look for a solution that enables to connect two computers for easy working or file transferring. IOGEAR's USB Laptop KVM Switch combined hardware and software solution that allows users to connect two computers via USB without any software or program installations.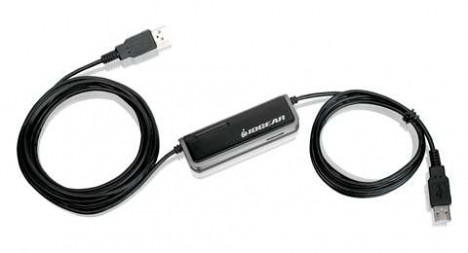 Key features of the USB Laptop KVM Switch
Control and work on two computers (laptop-to-laptop, PC-to-PC, or laptop-to-PC) conveniently at the same time from one computer as a console.
Built-in File Transfer Utility in the switch for backing up, updating and transferring files effortlessly between the connected computers without installation of any software in the computers.
The portable USB 2.0 cable design comes with a total length of nine feet USB cable (three feet on one end and six on the other end).
Desktop Image Scaling resizes your desktop image automatically onto your screen.
User-friendly on-screen toolbar with multiple functions for file transfer, desktop image scaling and others.
An extra USB 2.0 port is provided at the switch for USB devices such as a printer or an external storage drive.
Easy to use with 'Plug & Play' and no power adapter is needed.
Support Windows XP and Vista operating systems.
The USB Laptop KVM Switch is available now at about USD$75.