The leading company providing a range of KVM (Keyboard, Video, Mouse) and KVMP (Peripheral), connectivity, networking, A/V digital home, mobility and desktop solutions, IOGEAR has launched a new palm-sized device to share USB peripherals across a network, named as USB Net ShareStation.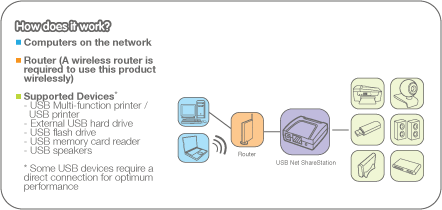 Features Of IOGEAR's USB Net ShareStation:
Share up to 4 USB devices through your home or office network by connecting to a USB 2.0 Hub
Wirelessly share your USB devices through your wireless router
Share an external hard drive, flash drive or memory card reader with multiple users over your network
Share a USB webcam over a network
Enjoy music stored on any networked PC with a USB speaker
Allows multiple users to share a Multi-Function Printer (MFP) over a network to print, scan, and fax from any networked computer
Supported protocols:, LPR/LPD, DHCP, UPnP
Supports USB 2.0 and 1.1 devices
Supports Windows Vista Rally Technology
Works with any home or office Ethernet network
"With multiple users in a home or small office, individuals need a simple, cost-effective way to share USB devices if they can't access them directly," said Miranda Su, executive vice president at IOGEAR. "Our USB Net ShareStation lets consumers access any flash drive, hard drive, printer, speaker or Webcam on their network, greatly increasing productivity as they can work off of USB tools as if they were connected directly to their computer."
The new IOGEAR USB Net ShareStation is now available for about $80.