MP771 is BenQ's premium, high-brightness XGA projector with an amazing short-throw ratio, enabling large-screen projection from a very close range. Perfect for places where space is limited i.e. small conference rooms, discussion rooms, lecture halls or classrooms where physical layout forces the projector to be up close to the screen.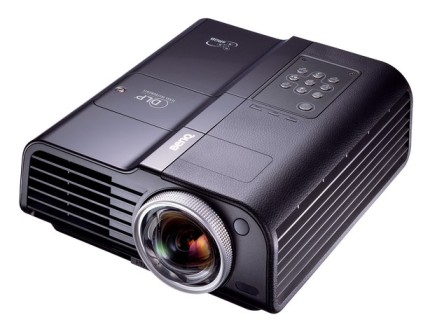 BenQ MP771 has the ability to project a 74" picture from just 1m away from the screen, a perfect combination for interactive games using the Nintendo Wii, Sony Playstation or Microsoft Xbox. Short throw technology not only overcomes space constraints, but positioning it closer to the screen keeps the movements of viewers from affecting the picture. The short-throw ratio also makes it more practical and safe for presenters to stand between the projector and audience, avoiding the usual annoyance of the bright projector lamp shining into their eyes.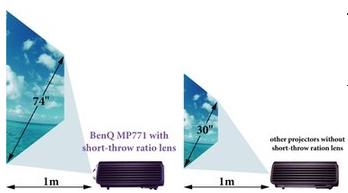 Featuring the advanced optical technologies with a powerful 3,000-lumen lamp, MP771 can delivers richly coloured pictures and vibrant views at all time, regardless of ambient lighting conditions as it automatically enhances brightness levels while maintaining an impressive high contrast ratio of 2000:1, bringing out even the tiniest detail.
Some of its other notable features are:
BrilliantColor
BrilliantColor Technology, among the latest advancements in front-projection projectors, enables a greater than 50% brightness increase in mid-tone hues, resulting in highly saturated, extraordinary images. Coupled with BenQ's 6-Segment Color Wheel, presentations are rendered in breathtaking vibrancy.
The Latest UNISHAPE Technology
Featuring new UNISHAPE Lamp Lighting Technology, the MP771 is able to vary the intensity of the projector lamp in synchronization with its digital mirror device (DMD) and color wheel, allowing an increase of 40% in brightness and boosts specific colors in different setting modes.
Personalized Color with 3D Color Management
3D color management allows users to fine-tune the six colors (R/G/B/C/M/Y ) independently for hue, saturation and gain to suit personal preferences or meet the requirements of specific applications.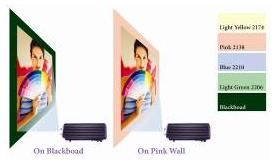 Wall Colour Correction
With Wall Colour Correction, the MP771 still enables you to project outstanding picture quality on different coloured walls. And with five wall colours to choose from, including blackboard, projecting on non-white walls still ensures a great picture without the hassle of manual picture adjustments.
Long-Lasting Lamp
With an average use time of 4,000 hours, the MP771 requires fewer lamp changes and less maintenance. That equals more enjoyment, less hassle!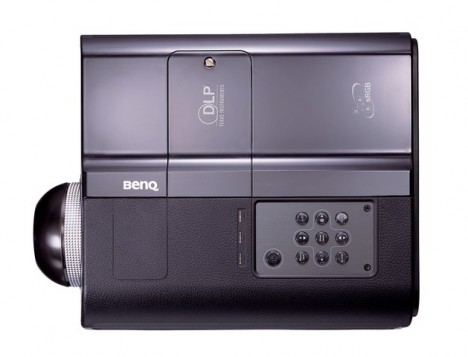 Summary
XGA Native
Short Throw Lens 74″@3.28′
3000 Lumens
UNISHAPE
Brilliant Colour
Filterless Design
4000 Lamp Hour(Eco Mode)
Price: $2,499