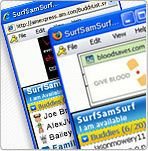 Instant Messaging is a pretty great and popular utility which allows users to have real-time or instantaneous communication with friends using internet facilities. It helps to maintain friendships and relationships all over the world in a very economical way. Despite its useful features to enhance and enrich effective and efficient communication, the main drawback of most of the instant messenger tools is it needs to be installed and tied to a specific computer. You probably can't use the communication facility in other computers if it is not installed with the software. For instance, if your office software policy restricts you from installing any software application, then you can't enjoy real time communication based on typed text. To overcome the difficulty and to allow users to continue enjoying the fun of instant messaging, AOL Instant Messenger (AIM) has unveiled its next generation and improved Instant Messenger for the web, namely AIM Express.

The new AIM Software, AIM Express Service 7.0 is currently in Beta version. Like other web-based messaging tools, the beauty of this improved instant messenger is to allow AIM users to chat and communicate with their friends anywhere without any software installed. Users can enjoy the instant messaging facility as long as they have an internet connection, e.g. in the library, airport, school, bookshop, etc. They could use this real time chatting platform via internet browsers such as Internet Explorer, Firefox, Mozilla, Netscape, etc.
AIM Express is easy to use and accessible world-wide. All users need to do is sign up with AIM and get a username and password. Users can thence use the user ID and password to access the AIM Express which is prompted out in a popup window. You will be notified if your browser blocks the popup Windows. Users need to change the Popup Blocker's setting by allowing an individual popup through. Once you have logged in, you will see all your buddies in your list. You can intiate chatting, add new buddies, change online status, etc with this online AIM Express.