The leading global provider of innovative processing solutions in the computing, graphics and consumer electronics markets, AMD (Advanced Micro Devices) has announced a new and innovative program which designed to help consumers select perfectly suited PCs for latest high-definition gaming – AMD Game!, combining the powerful balance of multi-core processors, exceptional HD digital media and next-generation graphics processing power, aiming to simplify the process of determining PC gaming system requirements for mainstream consumers.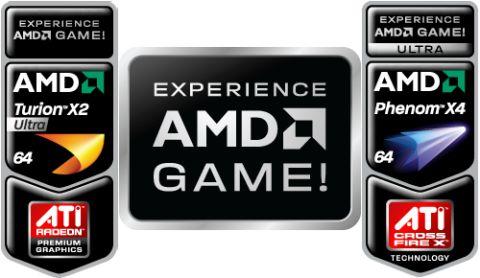 "With the support of industry leaders in PC gaming, AMD GAME! ensures consumers don't need an enthusiast-level knowledge of PC hardware for an optimal gaming system," said Nigel Dessau, senior vice president and chief marketing officer, AMD. "We in the PC industry owe consumers the same predictability, simplicity and affordability in finding a PC for gaming that the console industry currently provides."
In addition, AMD is partnering with industry leaders including Acer, Alienware, Logitech and Microsoft to help built PC configurations that are optimized for all types of users.
"AMD and Microsoft share the vision of delivering better gaming experiences on PCs running Microsoft Windows operating systems," said Kevin Unangst, Microsoft's senior global director of Games for Windows. "Microsoft's Games for Windows program and AMD are both working to expand gaming accessibility and ease of use to consumers. Games for Windows titles and Microsoft's gaming hardware, along with the AMD GAME! initiative, are great examples of how we can bring more value to PC gamers across the industry."
"AMD GAME! is a great initiative that will help Acer drive consumers toward the best solution for their gaming needs," said Brian Bogaard, product business manager – EMEA desktop PC, Acer. "PC gaming is an important area for Acer and with AMD's help, we can meet the expectations of consumers with a solid gaming experience."
"We are happy to see the growing interest in PC gaming and now AMD is adding a much needed program to help continue that trend," Patrick Cooper, director of product group, Alienware. "The AMD GAME! Experience enables Alienware to quickly and easily help consumers identify the experience that is right for them and the high performance Alienware solution that delivers it."
According to the company, "AMD GAME! systems combine proven AMD technology including AMD Phenom processors, the upcoming AMD Turion Ultra processors, AMD Athlon processors, ATI Radeon HD 3000 series graphics, and AMD chipsets to deliver an enhanced and simplified mainstream PC gaming experience."
The new AMD GAME! platform is now available online and retail availability is expected to begin from second half of 2008.