KDDI, a Japanese telecommunications operator that is famous for its 'au by KDDI' brand, has introduced a new brand named iida. iida is a brand that makes your life fresh and more creative every day as claimed by KDDI. The iida G9 slider mobile phone is the latest creation under this brand. Its main feature supports both GSM and CDMA networks.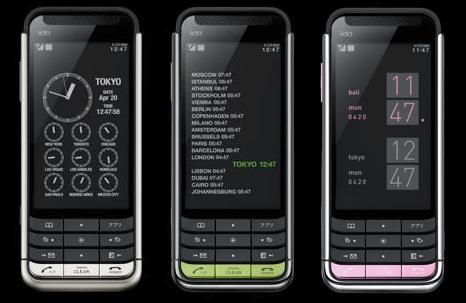 The iida G9 is really a cool slider mobile phone. Its stainless steel frame gives a smooth and cool feel experience on your palm. The slanted function keys also give a different experience to your fingers. If you frequently travel around the world, you will be impressed with its CDMA/GSM dual networks system. You can make calls from anywhere in 182 countries and regions, and send and receive e-mails anywhere in 128 countries and regions of the world. Moreover, the phone's standby screen offers four kinds of world clock that have different expressions and functions to best fit your style of use.
The iida G9 comes with a 3-inch LCD display that supports a resolution of 480 x 854. It is also equipped with a 3 Megapixel camera with 3x digital zoom. There is a 0.3 Megapixel secondary camera provided for video call. The iida G9 is also built-in with a GPS receiver. Another notable feature is that it comes integrated with a 1Seg TV tuner. Other key features include Bluetooth, a microSD card slot, e-mail ability, movie recording and Lithium-ion battery 770mAh with standby time of up to 230 hours and talk time of up to 3.5 hours.
The G9 will be available in three color options; black finish with green accents, titanium finish with silver accents and mirror finish with pink accents. There is no indication of the price yet.