One of the fastest growing companies in the mobile device market, HTC has officially announced its new flagship phone – HTC Touch Diamond, which crafted with precision to fit comfortably in user's hand without compromising on features or functionality, aiming to combine hi-tech prowess with intuitive usability and exhilarating design.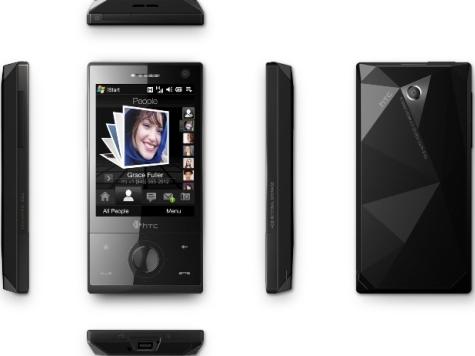 Highlights Of HTC Touch Diamond:
2.8-inch VGA touch screen with four times the pixels of most phones
3.2 megapixel auto-focus camera for quality stills and video
Vibrant TouchFLO 3D user interface, responding perfectly to your finger gestures when scrolling through contacts, browsing the web, and launching media… all vividly displayed as photos and artwork powered by the 3D graphics processor
HTC Weather – providing a constant view of weather at home and abroad
Surf and download at broadband speed with ultra-fast HSDPA Internet connectivity
Integrated ultra-sensitive GPS for use with maps software for a full turn-by-turn satellite navigation experience
4GB on-board memory storage to preserve more photos, music, files and exchanged data than ever before
"Today we mark a new era in mobile phone evolution, an era where beauty and size integrate with uncompromising innovation at broadband speeds," said Peter Chou, president and CEO, HTC Corp. "The HTC Touch Diamond will make browsing the Web and using Web-enabled applications just as practical and easy to use as making calls."
Key Specifications Of HTC Touch Diamond:
Operating system: Windows Mobile 6.1 Professional
Connectivity: WCDMA / HSPA: 900/2100MHz. HSDPA 7.2 Mbps and HSUPA
Bluetooth: 2.0 with EDR
Wireless: WiFi 802.11b/g
Interface: HTC ExtUSBTM (mini-USB and audio jack in one; USB 2.0 High-Speed)
Chipset: Qualcomm MSM 7201ATM 528MHz
Battery: 900 mAh
Talk time: GSM: up to 4 hours
Standby time: GSM: up to 300 hours/100 hours with push email
Size: 102 x 51 x 11.33mm
Weight: 110 g
Watch a demo videos of the slim and elegant HTC Touch Diamond smartphone below.