Sprint has announced that Sprint customers can purchase the long-awaited, high-performance HTC EVO 4G Android-powered smartphone beginning June 4, 2010. The new fantastic HTC EVO 4G is the first 4G phone in American market, which offers Sprint customers an incredibly-fast download speeds that is 10 times faster than 3G, ideal for watching (Youtube) streaming video, downloading large data files and etc.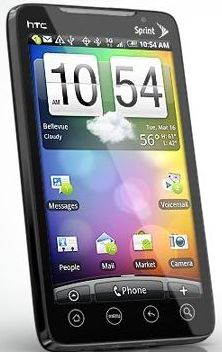 Features Of HTC EVO 4G:
Huge, clear 4.3″ WVGA touch screen with pinch-to-zoom support
Dual camera – 8 megapixel autofocus camera with HD video recording and 1.3MP camera
New Google Goggles offers innovative way to search with images instead of words
Support up to eight Wi-Fi enabled devices thanks to integrated mobile hotspot capability
Share live video through Qik, Facebook, YouTube or Twitter
Enjoy HD video with the EVO 4G on your big HDTV via an optional HDMI cable
Bult-in GPS with free turn-to-turn navigation from Google Maps
Custom Web browser with Adobe Flash support
HTC Sense UI complemented with Google Android 2.1 OS
Built-in handy kickstand for easy watching videos on-the-move
Digital Compass, proximity and motion sensors
Pre-loaded with Sprint TV and NASCAR Sprint Cup Mobile
Size: 4.8″ x 2.6″ x 0.5″ ; Weight: 6 oz
"The EVO 4G experience is much like going from TV to HDTV," commented Dan Hesse, CEO for Sprint. "But EVO has more than just an impressive list of features – it is also fun to use with remarkable gaming, video and web-browsing capabilities."
The new stylish, highly-anticipated HTC EVO 4G smartphone will hit all Sprint retail channels exclusively for $199.99, after a $100 mail-in rebate with 2-year service agreement.