Few years ago, Adobe Flash Player is a powerful tool for delivering animation, games, shopping carts, vector graphics and sound effects. However, recently there are more and more serious vulnerabilities were found in Flash Player. Why it would be happened? It is because Flash Player is a closed, proprietary system on web that deserves open standards. It have a huge security hole or punching bag for hackers which allow hackers to take control on its and puts users at risk over and over again. Due to the vulnerabilities in Flash Player, Facebook security boss, Alex Stamos called for a termination date for Flash, Mozilla Firefox browser disable the Flash plug-in, Null Byte's admin, accupytheweb, It security professional recommends everyone uninstall Flash Player to avoid being friend with hackers. This technology is over and gradually dying out, is time for its retirement.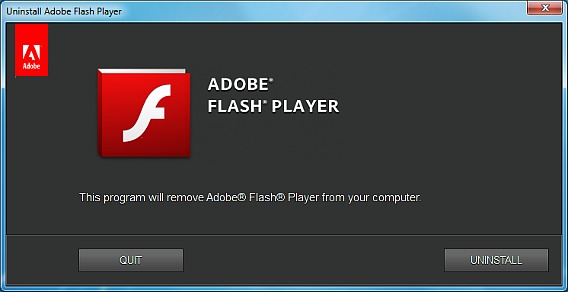 Here how to uninstall Adobe Flash Player from Computer
Uninstall Adobe Flash Player on Windows
Download the Adobe Flash uninstaller program by clicking the link below.
http://www.mediafire.com/download/wb42a2qd18lcv42/uninstall_flash_player.exe
You will have to close all programs that could use Flash Player. So, please exit Firefox, Internet Explorer or Google Chrome before start.
Run the Adobe Flash Uninstaller file, and then click "Uninstall" to remove it from your system.
Uninstall Adobe Flash Player on Mac
There are several versions of Adobe Flash Uninstaller for Mac users, and each corresponds to different operating system version. You may select your particular version and then click to download it accordingly.
http://www.mediafire.com/download/q9ndm5nv7rfwwp4/uninstall_flash_player_osx.dmg
http://www.mediafire.com/download/4svs49a3zefmg4r/uninstall_flash_player_osx_10.4.dmg
http://www.mediafire.com/download/h2owry2rcf064cc/uninstall_flash_player_osx_10.2.dmg
Exit Safari, Firefox or any other browser to make sure Flash Player are closed.
Run the Adobe Flash Uninstaller file and click on "Uninstall" button to get rid of the system-wide version of Flash.
Tips for Google Chrome users on Window and Mac
However, this uninstaller file cannot access Chrome which uses a secondary version of Flash. It might needs additional step to manually remove it.
Copy the URL below and paste into your address bar and enter.
chrome://plugins/
It will comes with plugins options as per below. Simply click to "Disable" tab underneath the Adobe Flash Player option to completely disable on your system.