With Windows 8.1 released, there are plenty of new shortcuts, options, and tricks built into the operating system. Microsoft has added few options inside Win+X Menu (also known as "Quick Access Menu"). Win+X menu in is a shortcut to terrifically handy power user settings and tools, including the command prompt, task manager, control panel, etc. It can be accessed by right-click on the bottom-left corner of screen or press Win+X keys.

Win+X Menu contains a new menu "Shut down" which including Shut down, Restart, and Sleep. Therefore, users can Shut down, Restart, and Sleep Windows operating system by pressing Win+X keys.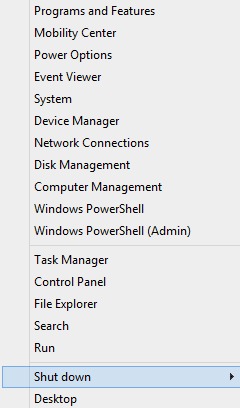 Unfortunately, the Hibernate option is not enable by default, but if want to add hibernate option into power menu, just follow these simple steps:
Type power in search box. For Desktop, move cursor to top-right corner of screen to access new Charms Bar. Click on Search option and type power in search box.
Click on Change what the power buttons do in settings section.
The power options page will appear, and choose system settings.