Jailbreaking has returned and the servers that are providing the jailbreaking service are already overloaded. The tool to jailbreak Apple iOSdevices running on a new version of firmware is now been released by Evad3rs. The Evasi0n 1.4 can untethered jailbreak the Apple iOS 6.0 and 6.1 devices to enable ability to install and run custom packages. The jailbreak is possible after Apple released iOS 6.1.2 update which patched a few enhancements including exchange calendar bug that was causing battery drain and increased network activity, but not the bug used by the jailbreak.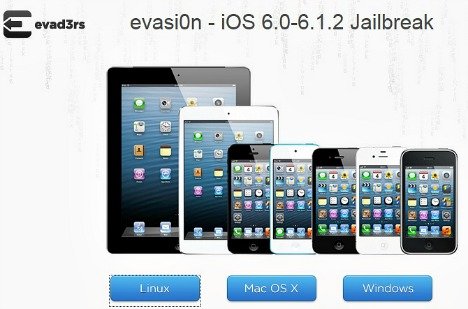 For the people who device has already been updated to iOS 6.1.2, you can download Evasi0n 1.4 to jailbreak the device. To accomplish the task, users just need to have a computer running Windows XP and up, Mac OS X 10.5 and up, and Linux x86 / x86_64. Before hacking the device hardware, it's advisable to back up the iOS device data with iTunes or iCloud. It allows users to restore from the backup without losing any of the personal data.
To install the jailbreak, just follow the steps below for an untethered iOS 6 jailbreak.
How to Untethered Jailbreak for iOS 6.0 / 6.1 Devices
Download evasi0n 1.4 [Window / Mac / Linux], save it on the desktop and unzip it. If you have a passcode lock, please temporarily disable it as it may interfere with the process by going to Settings > General > Passcode Lock.
Connect Apple iOS device to the computer using USB cable and lauch EvasiOn app (right-click and Open in OS X, run as Administrator in Windows). It should detect iOS device and firmware version.
After Evasi0n detects the device, click on "Jailbreak" button. This process will take some time and the device will reboot several times. Note: Do not turn device off and even touch it.
Towards the end of the progress indicator, you will be told to find and tap the "Jailbreak" icon on the iOS home screen. Tap the Jailbreak icon only once, and then it will continue, do not tap the icon more than once.
Once jailbreak process finished, the device will reboot itself and will be jailbroken. You will notice that the Cydia icon on the second page of the Home screen.
Run Cydia to setup initialize. Once the initialization is complete, the device will re-spring again.
Open Cydia again, select either "User" or "Hacker" from the Cydia and now your device will run on jailbroken iOS 6.1.2.
Note: Do be aware that there are scammers out there trying to take advantages of this release, so only use the official EvasiOn software if you choose to proceed.
A full Q&A about the jailbreak and other questions are available here.
Evasi0n 1.4 compatible with all iPhone, iPod touch, iPad and iPad mini models running iOS 6.0 through 6.1.2
Update: How To Jailbreak iOS 7 – 7.0.4 with evasi0n 7 (iPhone 5s, 5c, 5, 4s, 4 & More)