Pop up reminders have been a part of smartphone operating system almost since the beginning. But even when you set reminders it is easy to miss them, or dismiss them, and forget about the meeting or appointment. Toastr helps to avoid this problem by popping up the chosen reminder every time you unlock the screen on your Android phone.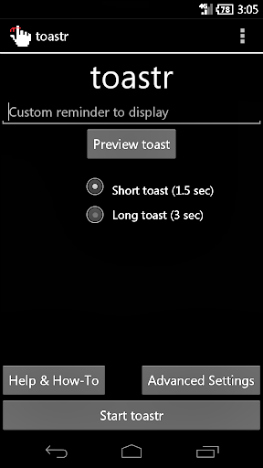 Toastr is a notification application for Android devices that provides simple feedback about an operation in a small popup so that users can quickly access to relate content in an app. Toastr was made to be incredibly easy to use. It can appear whether users are in another app, the Start screen, or in the lock screen. With Toastr, users can simply set the custom message and choose a toastr length. Toastr will run in the background and it will create a toast notification message when unlock the screen.
To get the Toastr app, users can search for the free Toastr app on the Google Play Store and download it to Android device. Once finishes download, run the Toastr app and start to use it by simply create the notification message.
Note: Toastr will only work if users have locked the device screen