Have you ever been missing out any call or message on your mobile device when you're busying in front of your PC or desktop? You can't stop what you're doing and not to juggle back and forth between your mouse and keyboard to pick up your smartphone and respond to the text. You wish to have a handy app so that you could respond to the text by simply opening up a window on your PC. Absolutely, you can do it.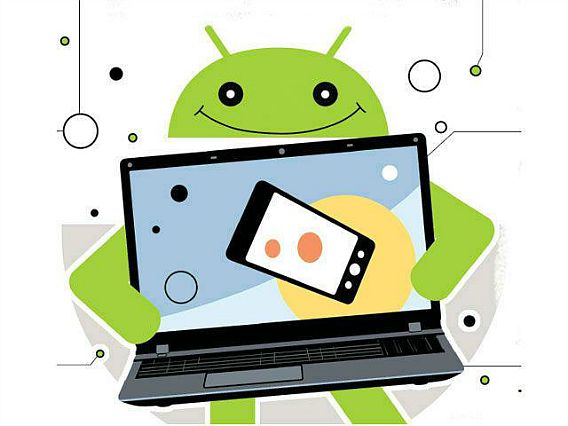 There are couples of apps rise up to remotely control your Android phone from PC. However, they are not user friendly enough, some require root access, and some needs subscriptions. With Vysor, developed by Koushik Dutta; a new app works for the Chrome web browser, it can do so much more with simplest solutions. Vysor available in beta in the Chrome Web Store and able to control your Android device with a keyboard and mouse when connect your phone to PC over USB. It is pretty easy and handy app with just need install the Chrome plugin in a few seconds.
Step 1: Enable ADB on your Window Computer
With all Window PC's users, you might need to install the ADB drivers to connect to your devices. Mac users can skip to the next step. Click on the URL link here and run for installation.
Step 2: Enable USB Debugging on Your Android device
To make sure your Android device set to always allow connections from your computer, you can follow the steps below.
Open you phone "Setting" > About Device > tab several times on "Build number" until a pop up message saying you are now enable a developer option > Go to "Developer options" under settings app > Enable USB debugging.
Step 3: Install Vysor App for Chrome
Click on the URL link here from the Google Chrome browser on your PC. Then, click the "Add to Chrome" button on the top of right on the screen to install Vysor Chrome app into your PC. Once done, launch the app and open the bookmarks bar on top of the screen then tab on Vysor icon.
Step 4: Connect Vysor to your Android device and control it from PC
Once done installed Vysor and ADB set up, launch the Vysor by clicking the "Find devices" and choose your device from the list. You are now able to control your Android device once you are connected. Android device have display in a window on your computer and you can use your mouse or keyboard to navigate your phone as per normal.
Here are some additional tips: 
ESC key to simulate the back button, F1 key to access the Android's menu and Home key to back to your home screen.
Simply resize the screen by drag from one size of the corners and the contents will scale up or down to fit the window.
Vysor able to share your device with another person with Vysor installed on their Chrome instance and that user has the same ability to view and control the existing session. Connect your Android device to your PC and open Vysor, click on the "Share" button in the top of the right in main menu.
As per mentioned just now, Vysor is available in beta in the Chrome Web Store. In order to run the app, you'll need to have Chrome 42 or a more recent version running on your computer. Even though is still in beta, but so far it's working well and we can't wait to see the actual launch product.