Sometime you may feel annoying when want to find photos in your PC. This may cause by poor manage of photos in PC.  Normally, Web browsers such as Google Chrome or Mozilla Firefox will use Downloads folder as a common location to save all downloaded photos. Besides that, users also can search images on PC by using the Search function in File Explorer.
Even there are few methods to manage or search photos in PC but it could deplete users valuable time especially when photos weren't rename or files on PC. Now here a solution for Windows users to easily locate and view photos on PC by using ThmbIndex.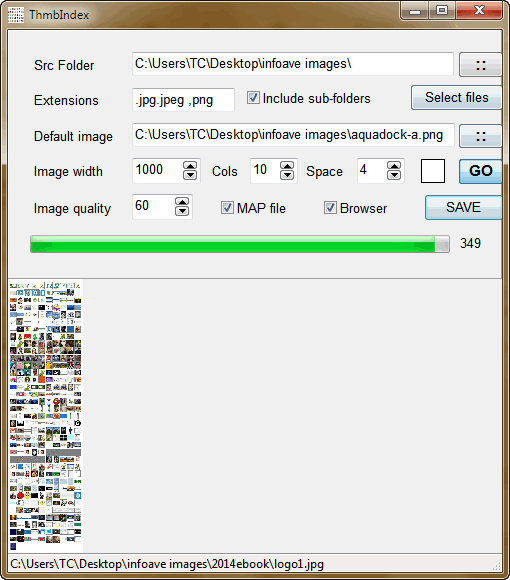 ThmbIndex is a portable Windows utility application that allows users to create an HTML file with thumbnails of each photo in a specified folder. It can create a JPEG image containing thumbnails and an optional map file. The thumbnails can link to the respective file. Users can click the link (in browser) and it will automatically load the photo.
To start ThmbIndex, just double click the icon to launch. It will appear with a small window in the middle of monitors screen.
Simply select the folder of photos that wish to create the index in the Src Folder (source folder) field. Once selected the folder, click "Select files".
Note: Users also can include sub-folders in the index
Next, determine which file types of the JPEG image to show with thumbnails, including width, the number of rows and columns taken by the thumbnails, size of spaces and borders, and background colour.
Note: You can select all the files in the folder with the same extension, include sub folders in the selection
Once completed click "GO" button, the application window will populate with the thumbnail photos.
In addition to creating an index file, you need to set the image quality and tick the "Map file" option and then click "Save". The application will create a clickable index for the photos in the folder when run in Web browser which means users can use ThmbIndex to create a visual index viewable on the Internet.
Unfortunately, ThmbIndex unable to support for folders on portable drives which might disappointing lot of Windows users that keep photos on portable drives.