Apple has officially announced during Apple iPad event the release of the latest version of its Mac OS X operating system – OS X 10.9 Mavericks, the operating system for Mac computers.
"With a single step update, you can run Mavericks," Apple senior vice president Craig Federighi said on stage.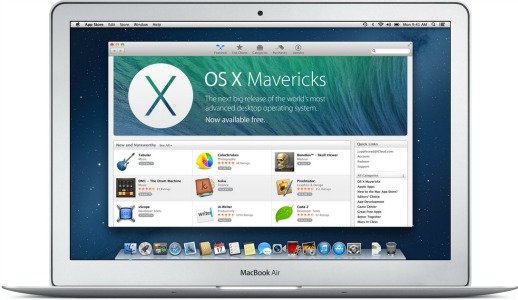 The latest version Mavericks will improve longer battery life, added iBooks app that allows users to sync the books they are reading on their iOS device with their Mac PC, and Apple's Maps app for easily transfer addresses from Mac PC to iOS device. In addition, Apple's Safari Web browser also been updated with some new features, including a shared links sidebar that show up the links your friends have shared on Twitter or LinkedIn.
New features that been found on OS X Mavericks include Tags which lets you tag photos and files for easily organize content across apps and Finder Tabs that make desktop search more streamlined.
For people who interested, you can upgrade your Mac to the latest release of OS X for free through Apple's Mac App Store. Just click the Mac App Store icon on your Mac. Download OS X Mavericks, and then follow onscreen instructions. Step as below:
Before download, save or backup all the important data.
Click the Apple icon at the top left of screen, choose About This Mac, and then choose More Info to check Mac hardware.

In About This Mac, check the OS X version.

Note: You can upgrade to OS X Mavericks from Snow Leopard (10.6.8), Lion (10.7), or Mountain Lion (10.8).
Open the Mac App Store and click OS X Mavericks. Click the Download button. Then follow the onscreen instructions to install it.

Mavericks is compatible with all Mac PC include:
•iMac (Mid 2007 or newer)
•MacBook (Late 2008 Aluminum, or Early 2009 or newer)
•MacBook Pro (Mid/Late 2007 or newer)
•MacBook Air (Late 2008 or newer)
•Mac mini (Early 2009 or newer)
•Mac Pro (Early 2008 or newer)
•Xserve (Early 2009)