Windows provides a contextual right click menu item of "Eject", which will be shown when users right click on CD-ROM, DVD-ROM or CD/DVD burner/writer optical drive, and when selected will eject or open the CD/DVD disc tray. For some reason, it may be useful to create an Eject shortcut or icon that will auto eject and open CD or DVD drive when click on the shortcut. The "Eject" shortcut can be placed on desktop or Quick Launch bar or any other convenient place for easy and fast access, eliminating the need to press the physical eject button on the drive.

How to Create Shortcut to Eject the CD or DVD Drive
To create an Eject CD/DVD shortcut, we need to rely on third party utility which has open and eject CD/DVD tray function. One such software application which is free and small is Eject CD 1.0 by Alex Nolan, a very tiny program which can be used to eject the default CD drive, DVD drive, or burner and writer from the command prompt or from a batch file. Of course, it's possible to be called as target from shortcut too.
Note: You can also make use of third party programs listed here used to close the CD/DVD drive.
Download Eject CD.
Actually, there is no installation required for EjectCD.exe. So you can just place it on desktop, Quick Launch bar, or any folder you like, and simply double click on it to eject the CD/DVD drive. If you decide to store the executable in Program Files, and want to create a shortcut on desktop that call the program to eject disc tray of CD, use following step:
Right click on the EjectCD.exe.
Choose Send To.
Select Desktop (Create Shortcut).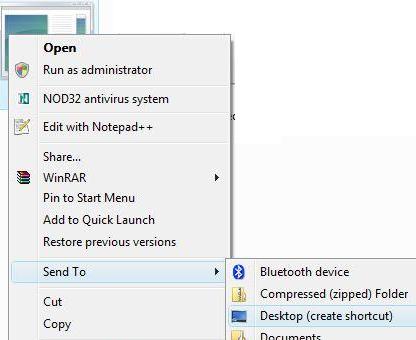 Then assign a name, such as "Eject CD" or "Eject DVD" to the shortcut on desktop by renaming it. By default it will be named "ejectcd – Shortcut" in Windows Vista and "Shortcut to ejectcd" in Windows XP. Users can also change the icon of the shortcut.

Once created, the eject CD/DVD shortcut or icon can be moved anywhere, and when double click, will immediately eject open the optical drive. Users can also assign an shortcut key to the shortcut so that CD/DVD drive can be ejected with just keyboard press, or create another shortcut to close the door of CD/DVD drive.