By default, the start menu power button in Windows 7 is set to "Shut Down". This may be preferred by some users while others may find it inconvenient. For instance, many users have complained about accidentally clicking on the power button and shutting down the computer while it is still in use. If the default setting creates inconvenience to you, reconfiguring the start menu power button action to other preferences, e.g. switch user, log off, lock, restart, sleep or hibernate might help.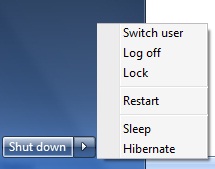 To change the default setting, users just need to right click the Start Button and click on Properties. (Alternately, users can right click power button and select Properties). Go to "Start Menu" tab, and then go to Power Button Action item. Select the action, e.g. switch user, log off, lock, restart, sleep, hibernate or shut down that users prefer.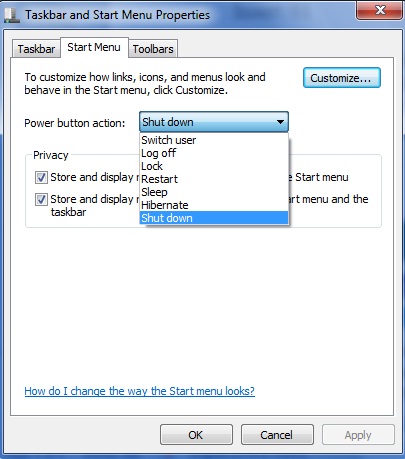 Besides the above mentioned, users can also make changes via the Local Group Policy Editor. Using this approach will enable the administrator to change the power button action and set the rule either for all users to conform to a standard default setting or for multiple users (of the same computer) to change to their desired setting individually.
To do so, users need to log in as administrator and open the Local Group Policy Editor. Go to Users Configuration -> Administrative Templates -> Start Menu and Taskbar. Click on the Change Start Menu Power Button and users can edit accordingly (under Options). Once the power button option is set, users need to check or select: Not Configured, Disabled or Enabled. By selecting Not Configured or Disabled, the administrator allows other users to change their own Start Menu power button action; by selecting Enabled, the administrator disallows other users from changing the power button action.
More tips and tricks for Windows 7 is available.