Microsoft has published Windows Sound Schemes for Windows Vista Ultimate users as a free download as part of Ultimate Extras package. Windows Sound Schemes includes two sets of sound scheme that is applied and played to events in Windows and programs, namely Ultimate Extras Glass and Ultimate Extras Pearl.

You probably has noticed the Windows Sound Schemes in Windows Update, and has decided to install the update package, or use the trick to install the sound schemes on non-Ultimate Vista. But how to make use of, apply, switch or change to the new sound schemes downloaded and installed on your computer so that Windows Vista tunes to the new sound and so that you listen to some different instead of Windows Default sounds?
After installing Windows Sound Schemes from Ultimate Extras, users can switch from Windows Default to Ultimate Extras Glass or to Ultimate Extras Pearl in the Change System Sounds item in Control Panel. To do so, follow these easy 2 steps:
Right click on the Volume icon in Notification Area (System Tray), and then click on Sounds option.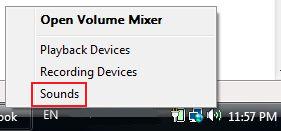 Under the Sound Scheme drop down box, select another sound scheme, such as Ultimate Extras Glass or Ultimate Extras Pearl.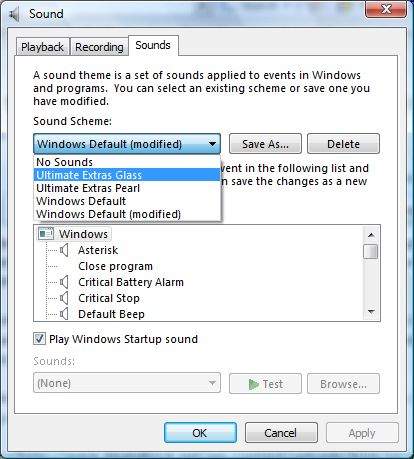 Then click on OK button to hear new sounds for common Windows tasks.