The wholly owned subsidiary of Hitachi, Hitachi GST (Hitachi Global Storage Technologies) has announced the launch of its fourth-generation 7,200 RPM mobile hard drive – Travelstar 7K320. It's the 2.5-inch notebook HDDs that able to deliver 60% higher capacity than its predecessor, while improving application performance by 12% and power consumption by 22%, combining high capacity and superior performance with power efficiency and low acoustics.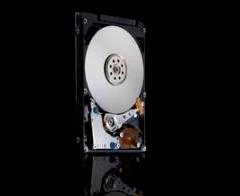 "As operating systems have grown more complex, users have struggled with an overall decrease in system performance," said Larry Swezey, director, Consumer and Commercial HDD, Hitachi Global Storage Technologies. "Solid state drives (SSD) have yet to deliver an overall increase in speed, and certainly not at an affordable price. The 7,200 RPM speed of the Travelstar 7K320 provides an improved overall experience, at the capacities users want and at a far lower cost than SSD."
Advanced Features Of Hitachi Travelstar 7K320:
320GB capacity for storing approximately 80 hours of high definition video, 320 hours of standard video, 100 movies, 80,000 4-minute MP3s or 160 games
The 7,200 RPM provides any operating system with a noticeable advantage in boot times and application performance. A SATA 3Gb/s interface and fast media transfer rates provide faster file copying and document retrieval, better graphics and improved game performance
Best-in-class operating shock protection of 400Gs to minimize the effects of rough handling and vibration
Power utilization on par with Hitachi's 5,400 RPM mobile drives, so that users can enjoy more "unplugged" notebook computing time
The drive's quiet acoustics provide a richer audio listening experience for music, movies and games
In addition, the Hitachi Travelstar 7K320 will also be offered with Bulk Data Encryption (BDE) as well. The standard version of the drive ranging from 80GB to 320GB is supports SATA 3GB/s interface, while the BDE models ship exclusively with SATA 1.5Gb/s interface.