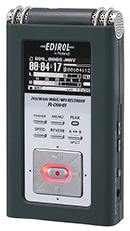 To cater particularly for professional such as musicians, reporters, etc, the award-winning audio recording specialists, Edirol, has introduced its professional and high quality portable recorder, R-09HR. R-09HR is a new leading member to Edirol's R-series recorders. This high-definition audio recording device is able to capture 3D sound in high 24bit/96kHz sound quality. By incorporating the newly developed Isolated Adaptive Recording Circuit (I.A.R.C.), R-09 HR able to lower noise disruption during recording and improve the recoding quality.

The Eidrol R-09HR is designed as ultra-portable compact handheld audio recorder and it is easy to bring along on traveling. It features a user-friendly OLED graphic display to easy reading/monitoring the sound recording. It comes with a built-in preview speaker for instant playback of recorded sound, SD and SDHC memory card slots and a wireless remote controller. The R-09HR can be connected directly to PC via USB for importing or exporting audio files with a substantial high speed.
The high-resolution wave/MP3 recorder, R-09HR, is priced around USD520.