Wanna be your own DJ? The computer DJ entertainment specialist, Hercules has concerned of your needs with the launch of the first wireless digital mixing mini-controller for PC and notebook – Mobile DJ MP3, the intuitive, user-friendly DJ mixing controller with dual LCD display allowing users to personalize music and host parties like a DJ.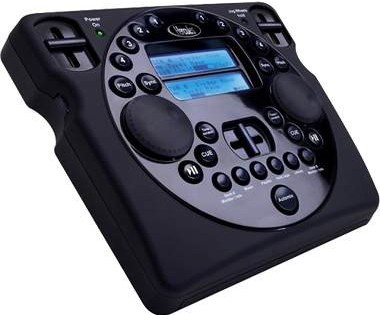 "In light of the explosion in the popularity of MP3s, we have created a novice MP3 mini-controller that puts DJing within reach for all music and entertainment enthusiasts of all ages," said François Garet, Development Director for the Hercules Music product line. "Our new portable controller makes mixing easy by giving everyone the tools to have fun putting their own touch on their digital music".
According to the company, "The Mobile DJ MP3 includes two decks for mixing, scratching and synchronizing the MP3 or WAV files stored on the PC. Additionally, the mini-controller includes two jog wheels emulating two vinyl/cd decks for scrolling through tracks quickly and scratching, a cross fader slider that allows quick transition from deck to the other deck and two volume sliders, four sound and effect buttons per deck, pitch sliders and 25 control buttons. Sound effects, song loops and changes in tempo let you modify songs according to your taste, and put your own individual musical mark on the mixes you share with your audience."
The portable and wireless Mobile DJ MP3 which powered by two C batteries is available for about $100.