Good news for folks who looking a way to convert their old photographs to digital images. The chain of stores selling high-end home products, gifts and gadgets, Hammacher Schlemmer has launched its new Photograph To Digital Picture Converter. As its name implied, this innovative device connecting to PC (via USB) based on Windows XP/Vista can easily convert your old photographs into digital images, allowing consumers to confidently preserve your memories for generations to come.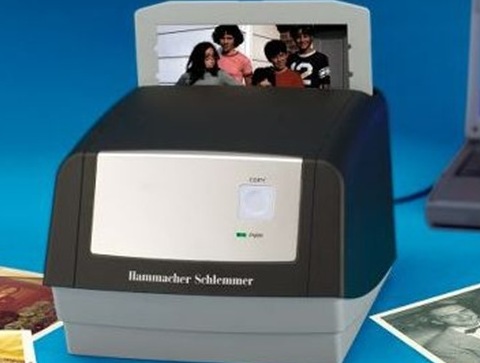 According to the company, The Photograph To Digital Picture Converter captures the whole image using a 5 MP CMOS sensor, the same found in digital cameras. With up to 1,800 dpi resolution, 10 bits per color channel, automatic exposure control and color balance, clear, accurate digital images are assured.
"Hammacher Schlemmer is committed to carrying the most unique and innovative collection of products for our customers," said Carly Krug, Corporate Sales Associate for Hammacher Schlemmer. "We know how important it is to preserve those precious memories and are happy to provide a quick, easy, and convenient way to accomplish that."
As your knowledge, Hammacher Schlemmer has already been selling The Slide and Negative To Digital Picture Converter that able to convert old 35mm slides and film negatives into digital images.
The new Hammacher Schlemmer's Photograph To Digital Picture Converter including software that allows you to edit, crop and resize your pictures is now available for about $150.