Movea has revealed its Gyration Go Pro Air Mouse. The Air Mouse, like its name, can be operated in the air with no wires and no tricks up to 30 meters away. Movea also emphasizes on its ergonomic ambidextrous design which allows more comfort during use. It makes the world a little easier to navigate as tagged by Movea.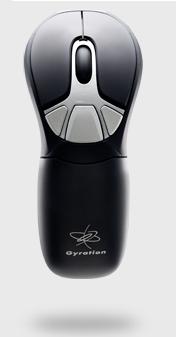 The innovative MotionSense technology can intuitively translate hand movements to on screen motion. You can experience the in-air navigation with just a simple flick of your wrist. Besides, the user can choose to use the mouse on the desk like a standard wireless mouse. The Air Mouse is designed for ergonomic ambidexterity with right and left buttons. It is comfortable to hold with the hand even in mid air. It is easy to use and comes with 3 assignable buttons for user to control the application commands.
The Air Mouse comes with the Professional edition of GyroTools Software for Windows that allows the user to take control of the applications and give commands away from the computer with just a flick of the wrist. Once the software has been installed, the mouse functions like a plug-and-play device. Place the RF receiver in the USB port and press the connect buttons on the receiver and you're ready to navigate. The wireless connection works with a 2.4GHz RF USB receiver without line-of-sight limitations and operates from a range of up to 100 feet (30m) away. You can relax on your sofa or bed to control your favorite music from the computer.
The Gyration Go Pro Air Mouse is available now for about $180.00.