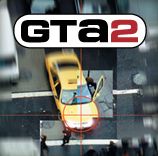 This is probably an old news but for those who don't have Sony PlayStation 3 (PS3) and Microsoft Xbox 360 to play newly released Grand Theft Auto IV (aka GTA IV and GTA 4), playing Grand Theft Auto classic versions on Windows computer is one good free alternative. Grand Theft Auto (GTA) is a sandbox-style action-adventure crime world gameplay video game, and has since released nine titles in the Grand Theft Auto series. Of which, GTA (volume 1) and GTA 2 is the first two titles that released on 1997 and 1999 respectively.

Grand Theft Auto allows allows the player to take on the role of a criminal who can roam freely around a city, and then the gamer has to complete various missions that are set, such as bank robberies, assassinations, and other crimes, or collect points and scores to complete the level. So if you wonder why GTA is so popular (it has sold more than 70 millions copies) and want to has a taste of Grand Theft Auto, Rockstar Games, the publisher is giving away for free download the full license version of GTA, GTA 2 together with Wild Metal Country, an action game where the player can choose from five different types of tanks and fights with other tanks on the battlefield.
To receive the free games download, gamers have to register and subscribe to the Rockstar Games mailing list. After filling up and submitting the registration form, an EULA will be shown, and must be accepted. Once click on Submit button, registrant will immediately down a zip package file which consists of the setup installer .exe, readme .txt file and a .pdf of the original PC game manual). Once installed, player can run the game and play immediately without the need of serial number, license code or activation.
Register and download free Grand Theft Auto (GTA) at http://www.rockstargames.com/classics/gta.html, Grand Theft Auto 2 (GTA2) at http://www.rockstargames.com/classics/index.html and Wild Metal Country (WMC) at http://www.rockstargames.com/classics/wmc.html.
These games have been optimized and modified from original versions so that the games can be supported and played on PC and current Windows operating system platform, which is Windows XP. It's unclear whether the games will run properly in Windows Vista. There are some tips and suggestions to run the games properly, remember to read the Warning/Disclaimer section on the registration pages for the trick.