Box is a simple and powerful online storage and sharing service built for the purpose of collaboration that provide file storage in web-based. Box comes with intuitive and easy to navigate online interface. With box, users can easily access and share any files or folders anywhere, and set permissions that dictate recipients edit, delete or view the files. In addition, the online storage service – Box also able to boasts quick upload speeds with simply upload process.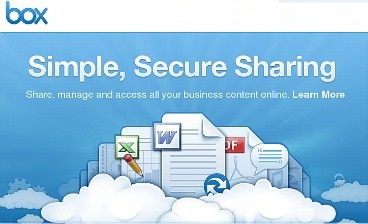 Features of Box:
Manage content intuitively
Tag files to find them more quickly
Share large files securely
Share a file or folder of content with direct web links
Turn any folder into a web page with a personalized URL
Sync files on your desktop
View files in your browser
Manage variable user permissions, from view-only to edit
Create wiki-style documents right inside Box to share meeting notes, ideas and manage projects. Invite others to contribute and edit.
Keep workflow organized by assigning tasks to approve, review or update files.
Update feeds, user profiles and email notifications
Real-time editing with Google Docs
View files instantly in Box without downloading them
View and share files on-the-go using your mobile device
Flow from documents to media files seamlessly
Full-text search for easily find files
Search for files based on content
Find Word documents, PDFs, Excel, PowerPoint – any file with text
Fully integrated into the Box interface
Since previous offered of free 50GB, Box has now serving 25GB for business account. Interest users can grab free 25GB on Box by visit the link below:
https://www.box.com/signup/o/hellosign_25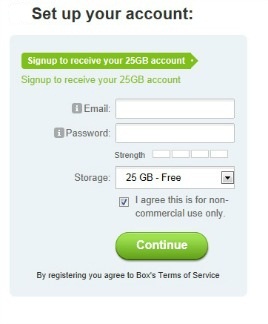 Box syncing wasn't offered for personal users, however users can get Box syncing by follow step below:
Here's how to get Box syncing without a business account.
First log into account at Box.com, and then click on "My Account" tab.
Once click "My Account" tab, users can noticed a "Get BOX Sync" option that provides the Box Sync app.
Install the syncing app and users will have a new folder in Windows Explorer/Finder for Box Documents.