Google Translate is getting a significant update especially for iOS users, revamping it for iOS 7 with adding a new look and handwriting support. Google has been added the features to its Android app almost two years ago, but this is the first time Google released version 2.0 of its Google Translate app for iOS 7.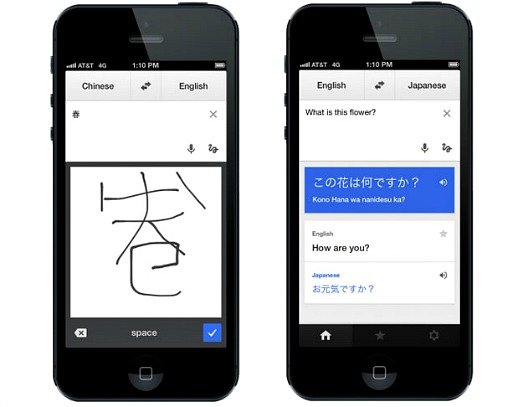 Google was brought good news for international travelers. A standout feature – handwriting support which allows travelers to scrawl down kanji they say inside a train station and getting usable results in English for instance. The app intends to help break down the language barrier whenever you travel to a place where the local lingo is something that you cannot understand. Having said that, an updated and optimized Google translate app will be able to enjoy a fresh new look in addition handwriting as well as more than 70 languages to make it happen. Instead of this, Google Translation is now available for 7 new languages which are Bosnian, Cebuano, Hmong, Javanese, Khmer, Lao, Marathi.
Google Translate is useful in many situations especially when you are on the go. Imagine when you are in Paris and need to ask a question. Just simply use text-input to type in your question, where it will then translate from English to French in a jiffy, with your translation being spoken back in French. If a shopkeeper in Paris wants to talk with a visitor from Korea, they can tap the microphone, speak naturally and quickly translate from French to Korean with a few simple taps. For more updated feature, if you are an expat living in China and want to make an order in restaurant on the menu, use the handwriting feature to discover a tasty new treat. Tap the Handwrite icon and input natural handwriting in nearly 50 languages.
Google Translate for iOS: https://itunes.apple.com/en/app/google-translate/id414706506?mt=8