Google Hangouts, one of the most popular free phone calls and text messaging (SMS) app on Android platform, has finally available for iPhone, iPod touch and iPad users. Similar to Google Hangouts for Android version, Hangouts  for iOS is also available as free download, without any in-app purchase required to enjoy the full functionality of free voice calling and text messaging between all Hangouts users.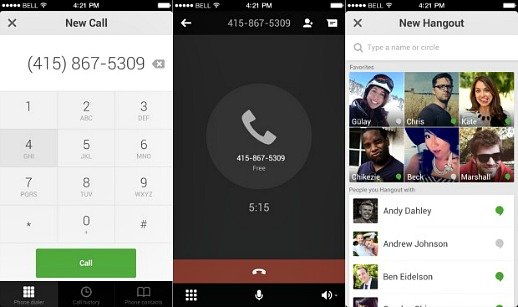 With Google Hangouts latest update on iOS, iPhone, iPod touch and iPad users can call phone numbers directly from the app itself, with no charge for any calls to US & Canadian numbers (international calls work too, for a fee), and vice versa for receiving call. The calls can be placed over Wi-Fi wireless connection or directly through 3G data connection.
Google Hangouts for iOS version 1.3.0 brings new feature such as messaging side of the app now supports inline animated GIFs, ability to see which friends are currently online, and a fix to keep the app will only pause music instead of stopping the track completely when a message comes in.
Here's the full change log:
See which of your friends is using Hangouts, and who can be reached right now
Call phone numbers from your iPhone, iPad, or iPod Touch (free to the US and Canada)
Make and receive calls using your Google Voice number
Send and receive animated GIFs that play inline
Hangouts will temporarily turn down your music (instead of stopping it) when you receive an incoming message
Hangouts 1.3.0 is available for free from the iTunes App Store.
Hangouts for iOS: https://itunes.apple.com/us/app/hangouts/id643496868?mt=8
Hangouts for Android: https://play.google.com/store/apps/details?id=com.google.android.talk&hl=en