If your job or business needs frequent traveling, you will realise that notebooks are very useful because of their portability. In terms of ergonomics, however, notebooks are not comfortable for long use specially for long typing on the keyboard. An exception will be the Go! Travel Keyboard, a newly launched keyboard by Goldtouch. It is a lightweight and ergonomic travel keyboard that weighs less than 0.5kg.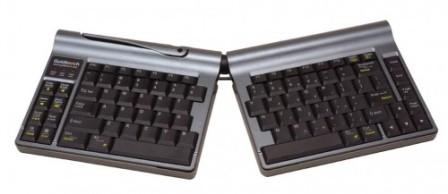 This Go! Travel Keyboard is portable and foldable. It is about same size with the 14" notebook and can be placed directly above your Notebook keyboard. It not only won't obstruct the built-in keyboard but also can be adjusted to the best angle to suit your hand positions. You can have 0°-30° adjustment for ulnar deviation (wrist splay) in the horizontal plan, and combined with 0°-30° adjustment for wrist pronation (vertical tenting). There is a rubber backing to prevent this keyboard from slipping from the notebook.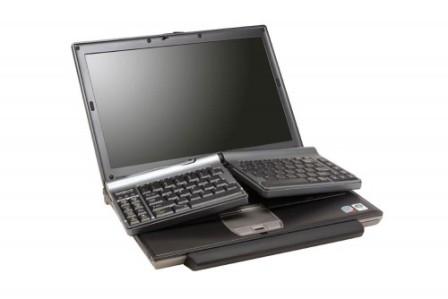 The keyboard is designed for comfortable use in limited space environments and can reduce shoulder pain as claimed by Goldtouch. It also comes with a soft key touch, low activation force and full key travel distance to ensure the ergonomic of the Go! The Go! Travel Keyboard is compatible with 2000/XP/Vista and Mac, and connectible by USB or USB with PS2 adapter. Two protective covers are provided together with the Go! to reduce the risk of damage through impact and key loss when traveling.
The Go! is available online at $139 and suitable for road warriors and mobile professionals to safely and comfortably work while traveling.