As 20 years of Pokémon games, Nintendo has launched its latest games – Pokemon Go for Android and iOS devices with free download in Australia, New Zealand and Japan on 6 July 2016, US on 7 July, and on 13 July to Germany. Finally, a mobile game that become a global phenomenon – Pokémon GO has rolled out in the UK and Ireland via the Google Play Store and Apple App Store (iTunes). Android users can download the Pokémon games via Google Play, while iOS users can access Pokemon GO from the iTunes App Store. If downloaded and installed the Pokémon GO APK file previously, update to official app in the Google Play Store and iTunes App Store is needed. This to ensure receive automatically updates later.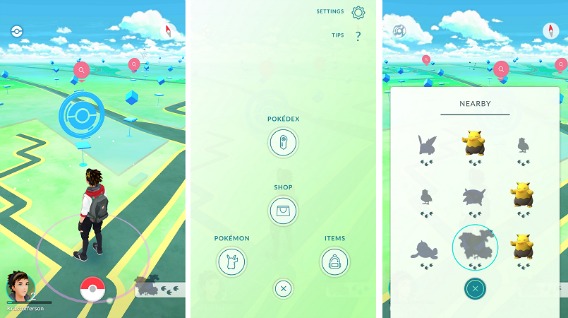 Pokémon Go is an augmented reality game which mixes real-world elements into game. The game request gamer use their device GPS function and clock to decide which Pokémon appear in the game. Gamer explore surroundings cities and towns to search, locate, catch, battle and trade Pokémon.
As gamer move around, their smartphone will vibrate to let them know if near with Pokémon. Once encountered Pokémon, take aim on smartphone touch screen and throw a Poké Ball to catch Pokémon and add to collection. In addition, gamer also encouraged to connect with other nearby Pokémon GO gamers and check PokéStops locations such as public art installations, historical markers, and monuments where can buy or collect Poké Balls and other items. Pokémon Go also has gyms where every gamers can fight to become gym leaders.
Pokémon GO is available as free download to play, however gamer need to buy PokéCoins (in-game currency) via in-app purchases if want to unlock special items within the game.
Here the prices list for PokéCoins:
100 PokéCoins: £0.79
550 PokéCoins: £3.99
1,200 PokéCoins: £7.99
2,500 PokéCoins: £14.99
5,200 PokéCoins: £29.99
14,500 PokéCoins: £79.99
In addition, Nintendo has also announced available to pre-order for Pokémon GO Plus which costs $34.99. Pokémon GO Plus is another device developed and manufactured by Nintendo. Pokémon GO Plus is designed for Pokémon GO fan to enhance enjoyment of the augmented reality game.
With Pokémon GO Plus, games can access and play Pokémon GO without looking at their smartphone. The device will connects with smartphone over Bluetooth to delivering haptic feedback with flashing LEDs to notifies gamer about events within the game, such as Pokémon nearby ready to catch or item to collect. Besides that, there is also a button on the front of the Pokémon GO Plus device that lets gamer act like "trainer" perform actions such as throwing Poké Ball to catch Pokémon.
Updated: Pokémon GO has announced added 26 new countries across Europe such as Austria, Belgium, Bulgaria, Croatia, Cyprus, Czech Republic, Denmark, Estonia, Finland, Greece, Greenland, Hungary, Iceland, Ireland, Latvia, Lithuania, Luxembourg, Malta, Netherlands, Norway, Poland, Romania, Slovakia, Slovenia, Sweden, and Switzerland. Pokémon GO fan can download from the Google Play Store or iTunes App Store by today.
You can share or follow us on Twitter, add us to your circle on Google+ or like our Facebook page to keep yourself updated on all the latest info from Microsoft, Google, Apple and the Web.